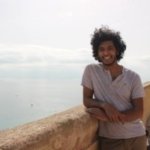 St. Mary's College of Maryland's Arvind Srinivasan '17 is one of only six students nationally to reach the finalist stage for the LeRoy Apker Award. This award is presented by the American Physical Society, and "recognizes outstanding achievements in physics by undergraduate students, and provides encouragement to young physicists who have demonstrated great potential for future scientific accomplishment."
As the last step in the selection process, Srinivasan will present his research to the selection committee in late August. His research submission is centered around two projects. The first is the use of optical trapping to cool and trap atoms for use in magnetic gradiometry. According to Srinivasan, "By cooling the atoms down to just a few hundred micro-Kelvin, we get an enormous increase in sensitivity, which can then be leveraged for a variety of purposes. All of this works on the principle of interferometry, or the measurement of phase between two superimposed waves. We also worked on a technique called T-cubed interferometry to improve the scaling of our interferometer in general, which will allow us to maintain sensitivity while taking measurements more rapidly."
The second project was a joint venture with the University of Strathclyde, Glasgow, Scotland, which focused on the generation and propagation of beams with orbital angular momentum (OAM) properties and their use in marine transmissometry work. "Here we were working to improve our transmissometer collection efficiency and reduce measurement uncertainty by separating photons based on whether they had been 'tagged' with our OAM mark or not," said Srinivasan.
Srinivasan, with a double major in physics and mathematics and a minor in philosophy, completed his St. Mary's Project under the guidance of Dr. Frank Narducci (Naval Air Warfare Center Aircraft Division) and Professor of Physics Charles Adler, and finished the majority of his coursework by the end of his junior year at St. Mary's College. This allowed him to spend the spring of his senior year completing a research internship at the University of Strathclyde. Srinivasan credits St. Mary's College Associate Professor of Physics Joshua Grossman for assistance with the cold atom work during the Scotland internship, and also University of Strathclyde's Dr. David McKee (lecturer) for "allowing me to be part of the research team, and for giving me free reign of a lab space and equipment."
Previously, Srinivasan received the Myron G. Marlay St. Mary's Project Award and the Physics Faculty Award for Undergraduate Research. He also received a Science, Mathematics, and Research for Transformation (SMART) Scholarship from the Department of Defense. He earned prizes for his research at conferences of the American Physical Society (APS) and the Society of Physics Students (SPS). He was a Nitze Scholar, an inductee into Sigma Pi Sigma and Omicron Delta Kappa, and president of the physics club. Srinivasan now works for NAWCAD atomic physics at Patuxent River Naval Air Station in Maryland.
Only two LeRoy Apker Awards are presented each year, one to a student from a Ph.D. granting institution, and one to a student from a non-Ph.D. granting institution. In 2014, St. Mary's College student Jeremy Perrin '13 was also a finalist for the award.