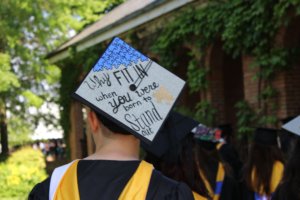 St. Mary's College of Maryland, the state's public honors college, graduated 373 students with Bachelor of Arts, Bachelor of Science, and Master of Arts in Teaching degrees on Saturday, May 12, outdoors on the campus' Townhouse Green.
The commencement address was delivered by Wanda Queen Draper, executive director of the Reginald F. Lewis Museum of Maryland African American History and Culture since 2016. Prior to the museum, she worked at WBAL-TV of the Hearst Corporation, where she served in a number of capacities, including director of programming and public affairs. She began her career with Hearst Newspapers as a reporter for the Baltimore News American. She also worked at WJZ-TV and Maryland Public Television. Draper is dedicated to uplifting and empowering communities in need. Her view of community service as a social responsibility has led her to take on hunger, homeless, and education, amongst many other worthy causes. Draper was presented with an honorary degree from St. Mary's College by the Honorable Sven Holmes, chair of the College's Board of Trustees.
Also receiving honorary degrees from St. Mary's College were St. Mary's College Board of Trustee Emeritus John J. McAllister and Bradley Gottfried, former president of College of Southern Maryland.
McAllister served on the Board of Trustees from 2004-2016. He has been an active supporter of the College as a River Concert Series sponsor and as a supporter of the Computer Science Co-op. He is also an active member of the community, having served on the Historic St. Mary's City Commission, the Board of the Southern Maryland Higher Education Center, and Sotterley Plantation Board. McAllister was co-founder, president and CEO of Eagan, McAllister Associates, Inc.
Gottfried served as College of Southern Maryland's fourth president from 2006 – 2017. Under Gottfried's leadership, CSM has taken an active role in the growth of Southern Maryland. These include the development and growth of several academic and workforce development programs, and the formation of a number of institutes. During his tenure, collaboration with the College was enhanced and served to strengthen the student pipeline between the two institutions, thus facilitating transfer student transition into St. Mary's College.
At the conclusion of the ceremony, President Tuajuanda C. Jordan charged the Class of 2018 with the following: "You have done well here at St. Mary's College of Maryland, where you have studied and learned in the finest liberal arts tradition. As you 'sail through this to that' in moving beyond the banks of this river into the world, my expectation is that you will take your passions, your skills, and the knowledge you have gained at this place to create a more just and humane society for all."
This year, two students earned the honor of serving as valedictorians to deliver the valedictory address. The first was Tyler Jones, a physics and computer science double major and a mathematics minor. Jones was inducted into Phi Beta Kappa as a junior, and this spring he won the Physics Department Award for academic excellence. He was a member of the dance club, president of the jiu jitsu club, and a tutor in the Writing and Speaking Center, where he was  known for his patience and good nature.
He was joined as valedictorian by Melissa Barall. Barall is a triple major in public policy, economics, and political science, with a minor in mathematics.  She has studied abroad at University College Dublin, served as a student ambassador for the Admissions Office, and twice interned with Wells Fargo as a summer analyst. She was co-captain of the Women's Varsity Tennis Team, a member of Omicron Delta Kappa, and editor of the political science student journal, Open Water. This spring, she won the Scholar-Athlete Award and the Louise Victoria Lusby Award in Economics.