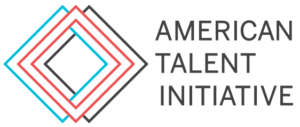 St. Mary's College of Maryland announced today that it has joined the American Talent Initiative (ATI), partnering with top-performing institutions to commit to the collective goal of enrolling 50,000 additional talented, low- and moderate-income students at colleges and universities with strong graduation rates by 2025. As part of ATI, a Bloomberg Philanthropies initiative led by the Aspen Institute's College Excellence Program and Ithaka S+R, St. Mary's College will develop strategies to attract, enroll, and support more high-achieving, lower- and moderate-income students from before they arrive on campus to graduation and beyond.
Launched in December 2016 with 30 institutions, ATI member institutions must meet the standard of graduating at least 70 percent of their students in six years. Membership in ATI now includes the entire Ivy League, 17 state flagship universities, and private colleges.
"At St. Mary's College of Maryland, we acknowledge the changed demographic in our country, the fact that we, as a people, are much more diverse than in years past," said Tuajuanda C. Jordan, president. "Not only is joining the American Talent Initiative the right thing to do, it helps ensure our College is on a path that will enable us to thrive in the present and future. Diversity and inclusion are no longer optional; they are imperative."
St. Mary's College has several initiatives in place to help increase diversity among the student body including the DeSousa-Brent Scholars program and the First-Generation Student Initiative.
St. Mary's College's DeSousa-Brent Scholars program actively recruits students from groups underrepresented in higher education. The program provides each scholar supplementary and preparatory courses, regular motivational events, and individual mentoring to cultivate their academic and leadership potential.
Established in 2017 by President Jordan, the First-Generation Student Initiative enables students who are the first in their families to attend college to be a part of a network of support from their parents and other first-generation students and faculty. Students and parents meet with first-generation faculty to discuss various topics, including: the importance of out-of-class experiences, how to identify/apply/afford college, work-life balance, and career paths.
As part of the national effort to increase opportunity for talented, low- and moderate-income students at top-performing colleges and universities, all member institutions are implementing several strategies designed to attract, enroll and graduate high-achieving, lower-income students, including:
Identifying talented students through better recruitment of qualified high school graduates and high-achieving transfer students from community colleges and other schools;
Increasing the number of applications from Pell-eligible students, the number of Pell-eligible students who are enrolled, and the number of first-generation students enrolled;
Prioritizing need-based aid to make attendance more affordable; and
Retaining and graduating lower-income students at rates comparable to their higher-income peers.
At this time, approximately 290 colleges and universities nationwide achieve a graduation rate of 70 percent of their students in six years. The initiative aims to increase the total number of low- and moderate-income students enrolled at these institutions by 50,000 – from about 480,000 to 530,000 students – by 2025. Member institutions of the American Talent Initiative commit substantial resources to increase opportunity for lower-income students, as well as collect institutional data which will be annually published to assess their aggregate progress toward meeting the 50,000-by-2025 national goal.