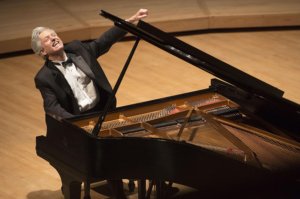 On Tuesday, April 10 at noon, the Alice Fleury Zamanakos and Arthur S. Zamanakos Noon Concert Series presents Musician-in-Residence Brian Ganz who will join music faculty colleague Beverly Babcock in a performance of two beloved works for piano and orchestra, Chopin's Piano Concerto No. 2 in F minor and Gershwin's "Rhapsody in Blue." The program, which is free of charge and open to the public, will be held in the Auerbach Auditorium of St. Mary's Hall on the College campus. For more information call (240) 895-4498 or visit https://www.smcm.edu/events/organizer/music-department/.
"Although we call the F minor Concerto Chopin's 2nd, it's really the first one he composed," Ganz said. "He was only 19 years old when he began composing it, finishing it at age 20," he continued. "So he was a true peer of many of our students when he composed this incredibly beautiful work. And he was full of youthful passion at the time, because he was in love with a classmate at the Warsaw Conservatory, but never expressed his feelings to her. He poured them into this concerto instead. And Gershwin was only 25 when he wrote "Rhapsody in Blue," so Beverly and I are playing two of the earliest masterpieces by these young geniuses."
Ganz played his eighth recital in his "Extreme Chopin" quest at the Strathmore Music Center on Feb. 10 of this year. He is now entering the second half of his multi-year journey through the complete works of Chopin, a project he has undertaken in partnership with the National Philharmonic. He began the quest, which the pianist calls a "dream come true," at Strathmore in Jan. of 2011 in a sold-out recital that launched the ambitious endeavor to perform the composer's approximately 250 works. After the inaugural recital, The Washington Post wrote: "Brian Ganz was masterly in his first installment of the complete works [of Chopin]." Beverly Babcock, one of the Washington, D.C. area's leading accompanists, is the College's accompanist-in-residence and a member of the piano faculty.