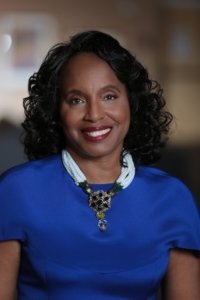 St. Mary's College of Maryland is pleased to announce that Wanda Queen Draper will deliver St. Mary's College's commencement address. The commencement ceremony will be held on the College's Townhouse Green on Saturday, May 12, starting at 10 a.m.
A native of Baltimore, Md., Draper graduated from the University of Maryland School of Journalism. She went on to attend Johns Hopkins University Graduate School of Contemporary Studies and the University of Maryland School of Law. She was appointed executive director of the Reginald F. Lewis Museum of Maryland African American History and Culture in September 2016. She came to the museum from WBAL-TV of the Hearst Corporation in a number of capacities including director of programming and public affairs. She began her career with Hearst Newspapers as a reporter for the Baltimore News American. She also worked at WJZ-TV and Maryland Public Television. She spent five years as director of community affairs and visitor services at the National Aquarium in Baltimore, managing admissions, security, catered events, retail sales and community affairs. She has extensive management training at the Disney Institute, the American Association of Zoos and Aquariums and the National Association of Broadcasters.
Draper is dedicated to uplifting and empowering communities in need. Her view of community service as a social responsibility has led her to take on hunger, homeless, and education, amongst many other worthy causes. The highlight of her community service was serving on the founding board of the Reginald Lewis Museum from 1999 to 2008. During that time, $38 million was raised to build the museum and $2 million to install the permanent collection. She returned as executive director in 2016 and looks forward to the many contributions that the museum will make toward enriching the lives of Baltimoreans, Marylanders, and visitors of all ages.
Draper is married to Robert Draper. They have two children and three grandchildren.