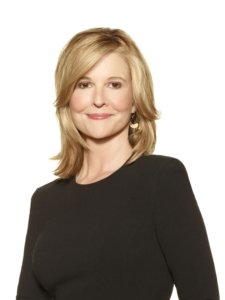 St. Mary's College of Maryland welcomes Washington Post columnist Kathleen Parker for the lecture, "Can't Stand Election Suspense? Why Wait?" on March 22. The event begins at 7:30 p.m. in Auerbach Auditorium of St. Mary's Hall on the St. Mary's College campus. A question and answer period will follow at 8:15 p.m. Presented by the Office of the President, the event is free of charge and open to the public but registration is required. To register, visit www.smcm.edu/parker.
Parker, whose political predictions have been on target more often than any other commentator's (so says Media Matters and they don't even like her), will cut through the wheat, the chaff, the hulls, the dross, and, yes, the indigenous products of the bovine alimentary canal. She'll tell you who's up to what, who's going to be the next president and why you really should turn off the TV. You don't even have to vote, though you probably should. "It ain't math," says Parker. "You don't have to be a nerd with a calculator to predict politics. All you need is common sense and a keen understanding of human nature. Alas, I'm cursed with both."
Parker is a Pulitzer Prize-winning columnist for the Washington Post, writing twice-weekly on politics and culture. The most widely syndicated columnist in the nation, her 750-word essays appear in more than 450 newspapers across the country, which translates to about 80 million print readers and countless millions online. She is a popular commentator on news shows and a regular guest on NBC's "Meet the Press," as well as MSNBC's "Hardball," and Fox News' "Media Buzz." Parker won the 2010 Pulitzer Prize for Commentary for "her perceptive, often witty columns on an array of political and moral issues, gracefully sharing the experiences and values that lead her to unpredictable conclusions." Describing herself as "slightly to the right of center" politically, she addresses politics, culture, and contemporary issues.
Visit www.smcm.edu for information on additional upcoming speakers such as David E. Sanger on April 6 presented by the Presidential Lecture Series; GOP staple and communications strategist Ed Gillespie on April 12; and comedian, actor, and writer Tig Notaro on April 20 presented by the Annual Mark Twain Lecture Series on American Humor and Culture.
St. Mary's College of Maryland is accredited by the Middle States Commission on Higher Education through 2024-2025. St. Mary's College, designated the Maryland state honors college in 1992, is ranked one of the best public liberal arts schools in the nation by U.S. News & World Report. Approximately 1,600 students attend the college, nestled on the St. Mary's River in Southern Maryland.