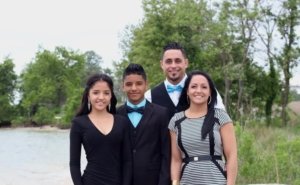 Each February, one week is dedicated to random acts of kindness. At St. Mary's College of Maryland it doesn't take a designated day, week, or month to invoke the kindness of those in our community.
Genie Torres, office associate I for admissions, experienced the strength of the SMCM community's kindness first-hand when she found herself in a time of great need as five of her loved ones were in Rio Grande, Puerto Rico when Hurricane Irma and Hurricane Maria devastated the area.
For two weeks after Maria made landfall, Torres was unable to communicate with her daughter Genesis,15, who had just begun a one-year stay in Rio Grande with her biological father. She also was unable to contact her grandparents and in-laws.
When she did make contact with Genesis, Torres learned that while everyone had made it through the Category 5 storm alive, they were not necessarily well.  All were uninjured but without running water, electricity, and access to any stores or medical offices. Torres said the fear of running out of food and water was strong. The elders of her group, she said were also in need of supplies for their pre-existing medical conditions.
"I was desperate," Torres said recalling how she was going to need to get help for her family.
At the advice of her colleague and union president Cheryl Colson, Torres wrote a letter to the campus community explaining her situation and that any support would go directly to helping her family.
Torres said in a recent interview that in the three years she has worked at SMCM she has known the College to be a warm place and that those in the community had empathy but she was unaware of the giving until she, for the first time outside of her own family, asked for money.
The SMCM community responded more than she could have hoped for: Torres said between a GoFundMe page set up and donations made in-person, she received approximately $3,000 which allowed for her and her husband to get to Puerto Rico with needed supplies and non-perishable food for his parents, her grandparents and Torres' daughter. They were also able to bring Genesis home and make arrangements to get her in-laws to Texas to connect with other family members. Torres said her grandparents remained in their home and thanks to support from the College community, they have a generator to help as their area is still without electricity.
"We are all family," said Karen Cozzens, office administrator in the office of information technology, of why she gave. Many who donated shared Cozzens' remarks.
"Genie is a member of our community and I strongly believe that giving begins at home and we should support each other," said Rich Edgar, senior development officer.
Deirdre Bulger, coordinator of disability support services, said she gave because "people need to be able to count on one another as community members when devastation and or tragedy hits."
Torres said that a lot of the help she and her family received came from the SMCM community and that she is without words as to how grateful she is to everyone for their kindness. "I just want to give a hug to everyone."