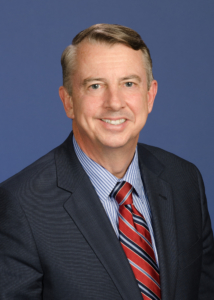 GOP strategist and former Republican National Chair Ed Gillespie will give "The Political Scoop," on Thursday, April 12 at 7:00 p.m. in the Auerbach Auditorium of St. Mary's Hall on the St. Mary's College of Maryland campus. Presented by the Office of the President, the event is free of charge and open to the public but registration is required at www.smcm.edu/gillespie.
Gillespie is one of the country's top communications strategists with a long record of success in advising business, politics, and government. A long-trusted staple of the Republican Party, he is one of a small number of Americans to have had offices in both the West Wing and the Capitol. A witty and candid speaker, Gillespie is in a uniquely qualified position to analyze the current political environment. He served in the White House as counselor to the president during Bush's last 18 months in office and saw firsthand how to get things done in a divided government. His presentations are part electoral prognostication and part commentary on hot-button political issues, and Gillespie combines personal experience at the highest-level of government with his intimate knowledge of behind-the-scenes Washington.
Visit www.smcm.edu for information on additional upcoming speakers such as political analyst and commentator Kathleen Parker on March 22 who describes herself as "slightly to the right of center;" David E. Sanger on April 6 presented by the Presidential Lecture Series; and comedian, actor, and writer Tig Notaro on April 20 presented by the Annual Mark Twain Lecture Series on American Humor and Culture.
St. Mary's College of Maryland is accredited by the Middle States Commission on Higher Education through 2024-2025. St. Mary's College, designated the Maryland state honors college in 1992, is ranked one of the best public liberal arts schools in the nation by U.S. News & World Report. Approximately 1,600 students attend the college, nestled on the St. Mary's River in Southern Maryland.