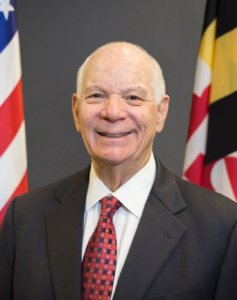 U.S. Senator Ben Cardin, ranking member of the Senate Foreign Relations Committee, will discuss the State of the Union, other recent developments, and take questions from constituents, Friday, Feb. 2 at 11 a.m. in the Auerbach Auditorium of St. Mary's Hall on the St. Mary's College of Maryland campus. This event is free of charge and open to the public.
The event is organized by the Center for the Study of Democracy (CSD) at St. Mary's College of Maryland, the Patuxent Partnership, Historic St. Mary's City; and League of Women Voters, St. Mary's County.
The CSD explores contemporary and historical issues associated with the ideas of democracy, liberty, and justice in national and international contexts. It supports research that enhances understanding of liberal democracy and its critics. CSD facilitates activities that strengthen democracy and the rule of law; enhance security and individual freedoms; invigorate the civil society; encourage free enterprise; and increase economic, environmental, educational and cultural equity.