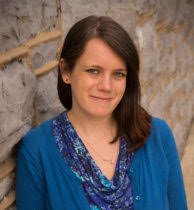 In celebration of St. Mary's College of Maryland's PBK chapter's 20th year celebration, alumna and PBK member Kerry Crawford '07 will be a guest lecturer at the College. On Monday, March 5 at 4:45 p.m., in Cole Cinema, Campus Center, Crawford will discuss "How sexual violence became a security issue: The importance of advocacy in national and international affairs." The event is free of charge and open to the public.
Crawford is an assistant professor of political science at James Madison University. She received a Ph.D. in political science from George Washington University (2014) and a B.A. from St. Mary's College of Maryland (2007), where she majored in political science. Crawford's first book, "Wartime Sexual Violence: From Silence to Condemnation of a Weapon of War" (2017, Georgetown University Press), examines the impact of advocates' framing of sexual violence as a weapon of war on international efforts to mitigate conflict-related sexual violence. Her second book manuscript, "Human Security: Theory and Practice" (2018, Rowman & Littlefield, co-authored with David Andersen-Rodgers), examines the landscape of human security in 21st century scholarship, policymaking, and security provision.
Her research has been published in the following: Journal of Global Security Studies, Gender and Development, Armed Forces & Society, and Air and Space Power Journal, openDemocracy, the Monkey Cage (Washington Post), and the United States Institute of Peace.
Crawford's visit is cosponsored by the Office of the President and the Department of Political Science.