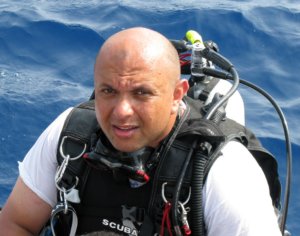 St. Mary's College welcomes Emad Khalil for the next Adventures in Anthropology lecture, Wednesday, Jan. 31, at 4:45 p.m. in Auerbach Auditorium in St. Mary's Hall on the St. Mary's College campus. Khalil is currently the professor of maritime archaeology in the department of archaeology and Greco-Roman studies at Alexandria University, Egypt.
In his lecture, "Discussing The Crossroads of the Whole World," Khalil will discuss the role the port city of Alexandria has played throughout history, and how it was significantly influenced by three different environmental mediums, which converged at Alexandria and gave the city many of its special characteristics: the Mediterranean Sea, the River Nile, and Lake Mareotis.
Khalil will examine this maritime network that converged at Alexandria in antiquity and the role it played in the development and prosperity of the city.
This event is free of charge and open to the public.
Khalil has been involved in several maritime and underwater archaeological projects that took place in Egypt, including the Pharos Project, the Sadana Island Shipwreck Excavation, the Lake Mareotis Research Project, and the Northwest Coast Shipwreck Survey. He has also given numerous lectures and presentations on maritime and underwater archaeology in different countries.
St. Mary's College of Maryland is accredited by the Middle States Commission on Higher Education through 2024-2025. St. Mary's College, designated the Maryland state honors college in 1992, is ranked one of the best public liberal arts schools in the nation by U.S. News & World Report. Approximately 1,600 students attend the college, nestled on the St. Mary's River in Southern Maryland.