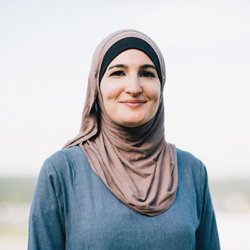 On Wednesday, Nov. 8 at 4:45 p.m., in Auerbach Auditorium at St. Mary's Hall, Linda Sarsour, social justice advocate and civil rights activist, will be the Margaret Brent Lecture series guest speaker. The event is free of charge and open to the public.
Sarsour is the former executive director of the Arab American Association of New York, co-founder of the first Muslim online organizing platform, MPOWER Change., and member of the Justice League NYC, a leading NYC coalition working to reform the New York Police Department and the criminal justice system. Sarsour has received numerous awards and honors including "Champion of Change" by the White House, YWCA USA's Women of Distinction Award for Advocacy and Civic Engagement and the Hala Maksoud Leadership Award from the American Arab Anti-Discrimination Committee. She was named among 500 of the most influential Muslims in the world.  Most recently, Sarsour was also the national co-chair of the Women's March on Washington, an event that resulted in the largest single-day civil protest and activist engagement in American history.
The Margaret Brent Lecture series was established in 1981 to honor "distinguished public service" among women. On the occasion of the lecture, the speaker is inducted into the Order of Margaret Brent and presented with the College medallion. The Brent Lecture has brought some of the most distinguished leaders in various fields to the college since its inception, including Rosa Parks, Betty Friedan, Rigoberta Menchú Tum, Toni Morrison, and Angela Davis.
The Margaret Brent Lecture series is sponsored by the Women, Gender, and Sexuality Studies Program  and the Lecture and Fine Arts Committee.