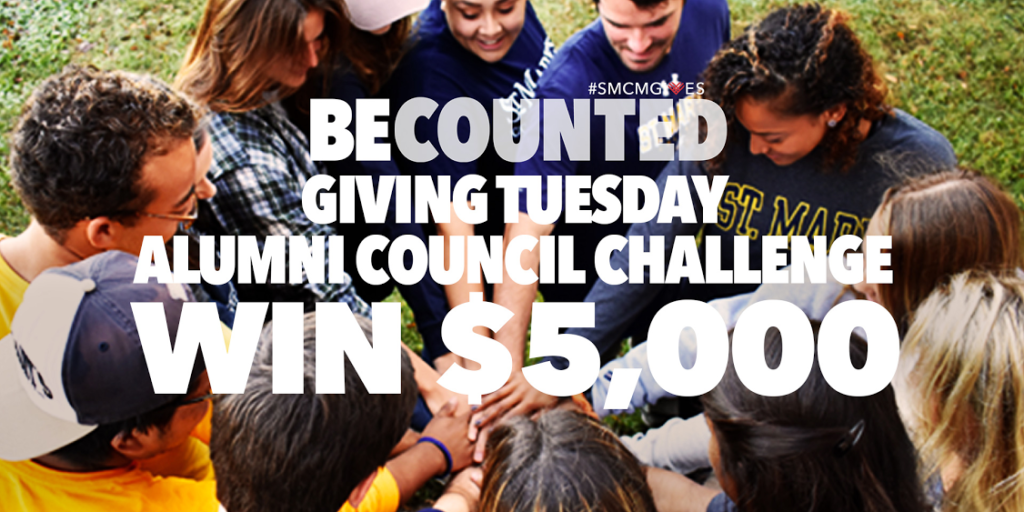 In an effort to encourage more student involvement this Giving Tuesday, Nov. 28, the St. Mary's College of Maryland Alumni Council rallied together to donate over $10,000 to award to student clubs and teams as part of a video challenge to share why they love St. Mary's College.
The clubs and teams that create the best videos will be determined by the number of online votes each video receives during the Giving Tuesday campaign.
First place will receive the grand prize of $5,000, second place will receive $2,000, and $1,000 goes to the third place group. The remaining funds will be distributed equally among the other participants.
The Alumni Council is the governing body of the Alumni Association. The Council meets quarterly and has up to 21 voting members including a student representative. Additionally, a variety of regional and affinity chapter presidents are involved as non-voting members.
This is the fourth year SMCM has participated in Giving Tuesday, the international day of philanthropy, and the first year the Alumni Council has offered this unique video challenge that allows for every donor who donates a minimum of $10 to vote for their favorite video.
Donations should be made between 12:01 a.m. on Nov. 28 and 3 a.m. on Nov. 29 to accommodate the College's friends on the Pacific coast. Online voting is encouraged anytime during this period, or in person on Nov. 28 between noon and 8 p.m. at Giving Tuesday Headquarters, located at the Campus Center. Donors may only vote once.
Throughout Giving Tuesday, staff will update the leaderboard and share unofficial results in the Facebook event, through email, and live at Giving Tuesday Headquarters. Winners will be announced on Friday, Dec. 1.
Celebrated annually on the Tuesday following Thanksgiving, Giving Tuesday is a day when charities, families, schools, and other organizations around the world come together for one common purpose – to celebrate generosity and give back.