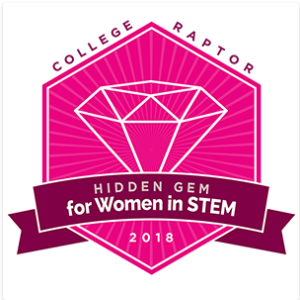 St. Mary's College of Maryland has been listed among the Top 25 Hidden Gems for Women in STEM by CollegeRaptor.com, a higher education planning tool that offers side-by-side comparisons of colleges.
According to CollegeRaptor.com, "STEM fields are the fastest growing career market out there, yet only 6.7 percent of college-going women graduate with a STEM degree – compared to 17 percent of men."
For a college to be included in the list, a school must have the following characteristics: receive fewer than 5,000 applications a year or less than 40th percentile of applications received by all schools in that state, have fewer than 7,000 undergraduate students enrolled, and at least 30 percent of the degrees awarded by a college must be STEM degrees. The highest percentage of women receiving the degrees is also a determining factor.
Recently, Angela Johnson, professor of educational studies at St. Mary's College, was published in the journal, The Physics Teacher, by the American Association of Physics Teachers. A part of her paper presented the findings of a study which describes actions taken by faculty in a physics department where women of color are thriving. Not mentioned in the article, the St. Mary's College physics department is the one that is thriving. The paper highlights the positive approaches to improving these extra burdens faced by women of color.
St. Mary's College also was recognized as the fifth best public liberal arts college in the country by U.S. News & World Report; a 2017-18 College of Distinction; acknowledged in the 2018 edition of the Fiske Guide to Colleges;  ranked in The Best 382 Colleges review book by The Princeton Review; ranked in the top 100 in Forbes Best Value Colleges; ranked one of the Best Colleges in Maryland by AdvisoryHQ News; ranked among the "Best Colleges for Your Money" by Money magazine; and listed eighth best affordable out-of-state school by AffordableColleges.com.
St. Mary's College of Maryland is accredited by the Middle States Commission on Higher Education through 2024-2025. St. Mary's College, designated the Maryland state honors college in 1992, is ranked one of the best public liberal arts schools in the nation by U.S. News & World Report. Approximately 1,600 students attend the college, nestled on the St. Mary's River in Southern Maryland.