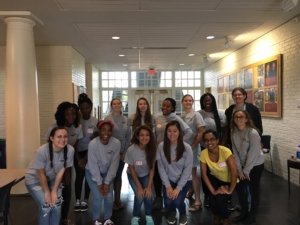 Recently, St. Mary's College of Maryland hosted Math Girls Day at the College's Schaefer Hall. Math Girls Day runs every semester for middle school girls from Esperanza and Spring Ridge Middle Schools. This year, 44 girls partook in math related activities, and enjoyed a guest speaker and lunch in the Great Room. Alumna Katie Savin-Murphy '12 who currently works at MediSolv in Baltimore, Md., was the guest speaker.
The Women in Science House Living & Learning Center (WiSH) opened in 2006 and is the longest continually run LLC at St. Mary's College.  It was formed to provide a space for students to create programming that supports women who want to be STEM majors or go into STEM fields. There are currently 16 members. Students who live in WiSH earn educational course credit for their activities.
"When Katie was a student, she lived in WiSH and it was great to have her come back and share her experiences with the students," said Lindsay Jamieson, associate professor of computer science, who is also a faculty sponsor along with Michelle Milne, assistant professor of physics.
The program is made possible thanks to the support of Mathnasium, located in California, Md. (http://www.mathnasium.com/californiamd).