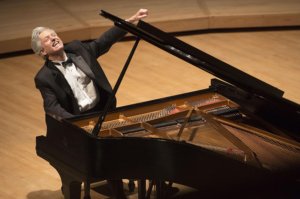 On Wednesday, Dec. 6, St. Mary's College of Maryland Musician-in-Residence Brian Ganz will continue his popular noontime "PianoTalk" series with a program entitled "Chopin the Student, Part 2."  This PianoTalk will be an in-depth exploration of Chopin's interest in counterpoint in his later years. Mr. Ganz will discuss and play Chopin's Canon in F minor and his Fugue in A minor, along with two mazurkas that demonstrate Chopin's application of his growing contrapuntal skills. The program at St. Mary's College's Auerbach Auditorium in St. Mary's Hall is free of charge and open to the public. For more information, call (240) 895-4498 or visit https://www.smcm.edu/events/organizer/music-department/.
"Chopin's Canon in F minor is a very lovely and poignant work, partly because Chopin left it unfinished," Ganz recently stated. "I considered commissioning a composer to finish the work, but ultimately decided it is more moving to allow it to stand as is," continued Ganz. "As it trails off, it serves as a reminder of Chopin's unfinished life, indeed the unfinished lives of so many great composers who died young. The fugue, on the other hand, is decisively finished- and one of Chopin's most beautiful unknown works. I will play a Bach fugue alongside Chopin's and we'll do a bit of comparing and contrasting. It will be fun!"
Ganz recently performed his 7th recital at the Strathmore Music Center in North Bethesda in his decade long journey through the complete works of Chopin, a project he has undertaken in partnership with the National Philharmonic. He began his "Extreme Chopin" quest at Strathmore in Jan. of 2011 in a sold out recital that launched the ambitious endeavor to perform the composer's approximately 250 works. The next recital in the series will take place on Feb. 10, 2018.
Ganz has appeared as soloist with such orchestras as the St. Petersburg Philharmonic, the National Philharmonic, the Baltimore and the National Symphonies, the City of London Sinfonia, and L'Orchestre Philharmonique de Monte Carlo. He has performed in many of the world's major concert halls and has played under the baton of such conductors as Leonard Slatkin, Mstislav Rostropovich, Pinchas Zukerman, Jerzy Semkow and Yoel Levi.  A critic for La Libre Belgique wrote of Ganz's work: "We don't have the words to speak of this fabulous musician who lives music with a generous urgency and brings his public into a state of intense joy."