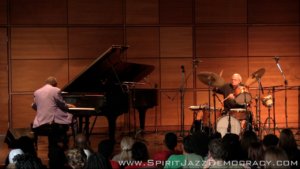 Master avant garde drummer Paul F. Murphy and renowned bebop pianist Larry Willis will perform a totally improvised concert, "Performing Spirit, Jazz, and Democracy," on Friday, Dec. 8, at St. Mary's College of Maryland. The concert is free of charge and open to the public. It begins at 7:15 p.m. in the Auerbach Auditorium of St. Mary's Hall.
Oxford University Press' Grove Dictionary of American Music has called Murphy and Willis' spontaneous compositions "a new direction in the jazz and art arena." Bebop and avant garde artists rarely mix. In jazz, as in politics, there are conservatives and progressives. Murphy and Willis believe that artists must preserve and innovate in balance. According to Murphy, "Art is innovation. Innovation is fueled by free thinking. Free thinking and engaging others' free thinking, with tolerance and peace, is true freedom."
The concert is the culminating event of the Spirit of Jazz & Democracy concert, workshop, and master class series held at St. Mary's College this fall. Poet Jere Carroll, drummer Dominic Fragman, and philosopher Sybol Anderson, will join Murphy and Willis onstage for guest performances and discussion. Also featured are reflections on jazz and democracy by series workshop participants.
Paul Murphy began playing drums at age six. Inspired after meeting Gene Krupa, at age nine he began an 11-year tutelage with Joseph Leavitt, principal percussionist for the National Symphony Orchestra and director of percussion at Peabody Conservatory. He also studied with Louie Bellson.
By age 16, Murphy had attended Duke Ellington rehearsals in Washington, D.C., and was performing regularly around town with Ellington's bassist, Billy Taylor. In the early 1970's, he established himself as a bandleader in San Francisco and met avant garde pianist Cecil Taylor and saxophonist Jimmy Lyons at Keystone Korner. They invited him to New York where he helped Rashied Ali (John Coltrane's drummer) manage Ali's Alley in SoHo. Eventually, he joined Jimmy Lyons' band. Lyons dubbed Murphy a master. In 1981, the audiophile digital recording company Soundstream recorded Murphy and Lyons as reference points for how drums and saxophone should sound.
Bebop veteran and three-time Grammy nominee Larry Willis made his first splash at 19 with saxophonist Jackie McLean. He has since played and recorded with a list of jazz royalty including Dizzy Gillespie, Kai Winding, Art Blakey, Stan Getz, Lee Morgan, Cannonball and Nat Adderley, Woody Shaw, Carmen McRae, Roy Hargrove, Wynton Marsalis, and Hugh Masekela. Having played on over 300 records, including 25 as a leader, Willis is widely regarded as one of the finest jazz pianists alive.
Willis' virtuosity extends into rock and classical music. He spent seven years as keyboardist with Blood, Sweat, and Tears, and he's composed for the Brooklyn Symphony Orchestra and Florida Southern College Symphony Orchestra.
"Increasing division in politics challenges our democracy," Willis said. "All Paul and I really want to do is to be a part of that feeling in philosophy that talks about peace on earth and good will towards men. I think it is a very noble and simple way to live. I can only explain it up to a certain point. The rest of it you'll have to experience."
The Spirit of Jazz & Democracy is a program of interactive lectures, performances, workshops, and master classes that derive key lessons from jazz music about promoting freedom and inclusive democracy. Jazz is the true American art form and the music of freedom in performance as well as concept. The Spirit of Jazz & Democracy engages audiences in intentional listening and expression in the context of performances and discussions of jazz and democracy. At the center of the program are fully improvised concerts by Paul Murphy, Larry Willis, Jere Carroll, and Dominic Fragman. Learn more at www.SpiritJazzDemocracy.com.
This project was made possible by a grant from Maryland Humanities, through support from the National Endowment for the Humanities. Any views, findings, conclusions, or recommendations expressed in this program do not necessarily represent those of the National Endowment for the Humanities or Maryland Humanities.
St. Mary's College of Maryland is accredited by the Middle States Commission on Higher Education through 2024-2025. St. Mary's College, designated the Maryland state honors college in 1992, is ranked one of the best public liberal arts schools in the nation by U.S. News & World Report. Approximately 1,600 students attend the college, nestled on the St. Mary's River in Southern Maryland.