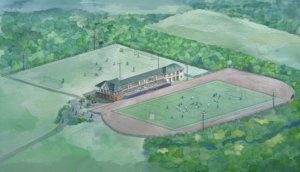 Work on the new Jamie L. Roberts stadium is scheduled to begin as early as November. Upon completion, the lighted stadium, including team rooms, a track, bleachers, a sports medicine room, press box, restrooms and concessions, will be situated between synthetic and grass fields on Mattapany Road.
Maury Schlesinger, capital projects manager/planner with the College's planning and facilities department, said the College is on an aggressive schedule and work on the synthetic field will begin in mid-November pending all appropriate permits and approvals are received.
The grass field for the complex will be an expansion on one of the existing practice fields. Work on the stadium structure is slated to begin in January. Schlesinger anticipates the complex will be completed in time for the fall 2018 season.
The stadium is named in honor of Jamie L. Roberts, a St. Mary's College class of 2011 economics major and three-sport star athlete who was tragically killed in June 2014 while riding her bicycle across the country in the 4K for Cancer event, which raised money for the Ulman Cancer Fund to support young adults impacted by cancer.
The Jamie L. Roberts family donated $2.2 million to the College, with a portion of their total donation enabling the College to complete its $2.5 million capital campaign. The completion of the campaign allowed the College to utilize more than $75 million in State of Maryland funding. The Jamie L. Roberts family gift is the single largest gift in the history of the College. The capital campaign will also support the completion of a new 52,289-square-foot academic building to house the College's music department, a 700-seat auditorium, educational studies department, which includes the Master of Arts in Teaching program, and a multi-discipline learning commons area. Completion for this portion of the project is planned for 2022.
Schlesinger said as the project moves forward, work will continue on commemorating the area around the complex.
Last year, in the process of conducting the required archaeological survey, artifacts indicating evidence of slave quarters were discovered. Since that time, there have been campus and community discussions and plans are in the works on how to appropriately commemorate the area.
The stadium complex was awarded to RAD Sports, a company based in Massachusetts with experience designing and building sports facilities for secondary schools and colleges on the east coast.