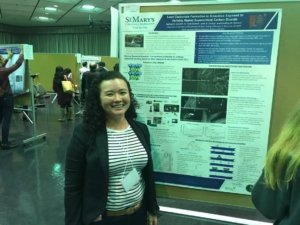 Chemistry and biochemistry major Sydney S. Cunniff '17 presented part of her St. Mary's Project research, overseen by Geoffrey Bowers, assistant professor of chemistry, at the regional Undergraduate Research Symposium in the Chemical and Biological Sciences.
According to Sydney, "I completed the data collection while at Pacific Northwest National Lab. My research looked at a novel carbonate formation reaction that occurs in clays when exposed to high pressure carbon dioxide. This project is relevant to carbon sequestration and the storage of carbon dioxide in underground formations."
The research was done by using a suite of unique high-pressure research instruments designed to study the interactions of variably wet supercritical carbon dioxide with minerals underground.
More than 250 undergraduate research posters from students in Maryland, Virginia, Pennsylvania, and surrounding states were presented at the symposium, with Sydney's work being selected as the second place poster in a Chemical Sciences group.