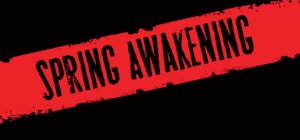 Auditions for "Spring Awakening" (the musical) will be held in room 25, Montgomery Hall, on the St. Mary's College campus on Tuesday, Nov. 14, from 8 – 10:30 p.m., and on Wednesday, Nov. 15, from 9 – 10 p.m. To audition, pleaser prepare two things: 1) a popular song that, preferably, includes a verse and chorus; be prepared to sing acapella; and 2) a maximum 1-2-minute monologue of your choice, preferably from a serious (or dramatic) play; ideally, you should have this piece memorized. The musical includes mature themes.
Age and vocal range: Women, late teens/early 20s, mezzo-soprano; one adult female, mid-30s, alto; Men, late teens/early 20s, baritone and tenor; one adult male, mid- to late-30s.
An audition sign-up sheet is posted on the TFMS bulletin board in the Theater lobby of Montgomery Hall. Callbacks will be held on Friday, Nov. 17, 2:45–5:45 p.m., location TBD. "Spring Awakening" performs February 28-March 4, 2018.
Please direct any questions about audition procedures or the production to director Mark A. Rhoda @ marhoda@smcm.edu, any questions about vocal requirements or preparation to music director Larry Vote @ levote@smcm.edu.