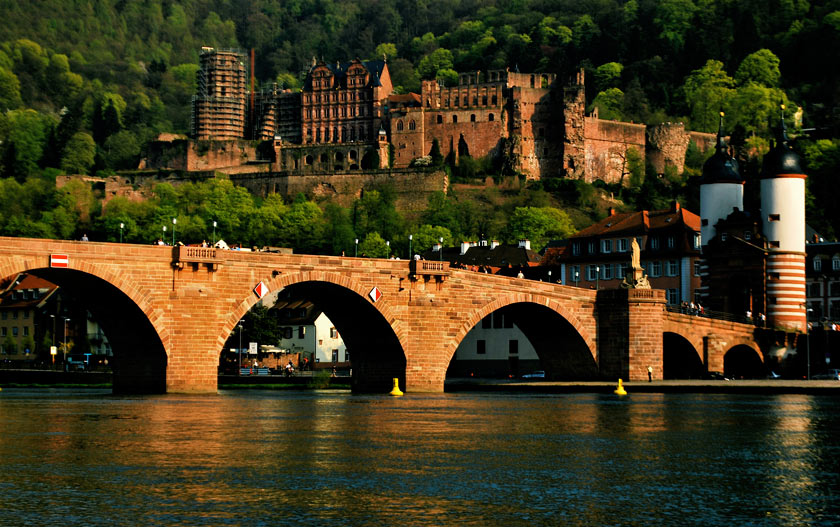 Pre-Requisites
Minimum GPA: 2.5
Foreign Language: 4 semesters of German
Approval from SMCM German faculty
Judicial Check
Dates
Fall 24 Program Dates: October – February

SMCM Application Deadline: March 15th
Heidelberg Application Deadline: ASAP – Nominations Fill up
Highlights
Oldest University in Germany
Student-friendly city
Optional intensive language course
Financing Studying Abroad
Office of International Education Scholarships (Need-Based, Merit-Based, Region Specific, Language Study)
Speak with the Office of Student Financial Assistance for Options
About the Program
Students with advanced German skills may take courses in the humanities and the sciences side-by-side with German peers at the University of Heidelberg. Founded in 1386, Heidelberg is the oldest university in Germany. Heidelberg is also internationally known for research and teaching, and is additionally one of the most popular German universities among international students.  The university enrolls more than 30,000 students in total, with approximately 4,500 international students from more than 130 countries.
Location
Located one hour south of Frankfurt, Heidelberg is regarded as one of the most beautiful cities in Germany.  The nearest international airports are Frankfurt and Stuttgart with trains running frequently between these cities.
Heidelberg's cosmopolitan and student-friendly atmosphere is one of the city's distinguishing characteristics.  Both the city and the university offer sports and leisure activities, as well as numerous theaters, renowned film and music festivals and a large number of museums, creating a sophisticated and diverse cultural atmosphere. Popular local tourist destinations include the world-famous Heidelberg Castle (Schloss Heidelberg), the historic streets and alleys in the old city and the Philosopher's Path (Philosophenweg), one of the most beautiful mountain hiking trails in Europe, as well as many fine restaurants.
Academics
SMCM students who have completed at least two years of university-level German language study may apply for a semester or an academic year at Heidelberg.  There are a wide range of course options for students to choose from. If students wish to concentrate on learning German only while they are in Heidelberg, they can participate in a full-time German language program.
The university offers international students special courses of study and degrees. In addition to its program for German as a Foreign Language, there are a growing number of courses offered in English. Students also have the option of taking a free, month-long intensive language course at Max Weber Haus prior to enrolling directly into classes at the university.
There are three types of classes at Heidelberg:
Vorlesungen: This is strictly a lecture class. The information is generally basic and intended as background information. There is rarely interaction between the professor and students. No written work is submitted and there are no tests.
Seminare: There are different levels of Seminare – Proseminare (for beginning students), Hauptseminare, and Oberseminare (for advanced students). These classes involve more interaction between professor and student than a Vorlesungen and will generally include a presentation and a paper at the end of the semester.
Ubungen: These classes are to help students practice in a certain area, such as pronunciation. Some literature classes are a combination of Vorlesungen and Ubungen, which usually entails the professor giving an introduction to the text and then following up with a class discussion.
Housing & Meals
After students have been accepted, Heidelberg University provides numerous resources and assistance to help students arrange their accommodations. There are numerous types of housing available but, past participants have found that most people are issued a single bedroom with one or more housemates.
Housing and meal fees are paid directly to the Studentwerk which also operates four student restaurants (Mensa) and nine cafés. Vegetarian and pork-free dishes are always available and prices range from the low-priced meal of the day to a buffet with a great variety of dishes.  The city of Heidelberg also offers a wide selection of local bars, restaurants and cafés should you wish to try something new.
Student Life
Heidelberg offers a wide range of extracurriculars to suit a variety of interests.  All students are encouraged to take part in the sporting activities, which include aikido, rowing, fencing, soccer, African dance, and yoga.  Information about these activities are published annually in the Vorlesungsverzeichnis and Sportprogramm.  Students can also pursue musical interests with four university choirs and an orchestra.  Individual departments have their own theatre groups which are open to all students.
For those who are interested in traveling while abroad, the Akademisches Auslandsamt offers a range of reasonably priced trips around Germany to places such as Berlin, Nürnberg, Köln, Rhine and the Black Forest.  Locations outside of Germany are also easily accessible via public transportation.
Important Links
How credits taken abroad will transfer back to SMCM.
The academic and judicial requirements for any student considering studying abroad.
How financial aid will apply towards your study abroad program and what scholarships are available.
Payment processes for semester-long, short-term, and non-SMCM study abroad programs.