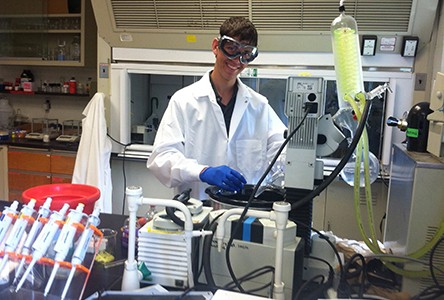 As biologists ask ever more complex questions about how cells function, new experimental methods must be developed to answer these questions. Chemists are playing an essential role in the development of these new tools.
One St. Mary's College student in particular, Wyatt Paulishak ('16), has accepted that challenge. Specifically, Wyatt is looking to tap the potential of transition metals to activate bioactive molecules in a time and location specific manner. With the help of his research mentors, professors Mertz and Streu, Wyatt hopes that this technology will one day allow researchers to run much more precise experiments inside cells, or even be used to reduce the side effects of chemotherapy.
In support of his work, Wyatt was awarded one of just 12 Undergraduate Research Awards nationwide funded by the American Society for Biochemistry and MolecularBiology.