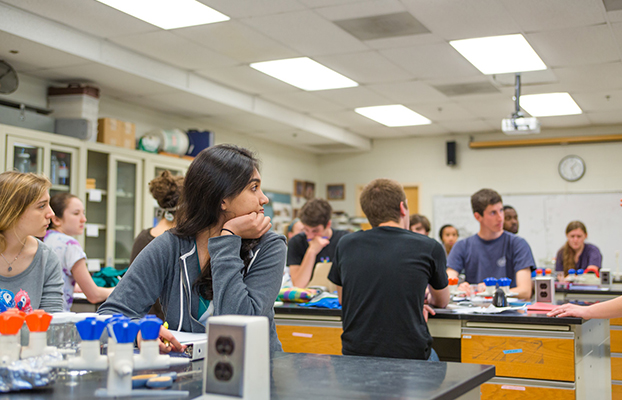 If you love studying and exploring the natural world, then Biology is the major for you.
Our first-semester Principles of Biology course meets in classes of 35-45 twice a week, and in smaller classes of about 20 once a week, providing a time for students to work in small groups to apply their knowledge, solve case studies, work with molecular models, and read original research papers.
All majors are required to take a sequence of four core courses to introduce them to the breadth of biological studies: Principles of Biology I and II, Genetics, and Ecology and Evolution.
Students learn to design their own laboratory experiments beginning in Principles of Biology I, and continuing throughout the major
The core courses also teach students about scientific writing and data analysis.
Biology majors may choose any four upper level elective courses in Biology to complete the major, two of which must have a laboratory component.
Other requirements include:
General Chemistry (two semesters)
Organic Chemistry (one semester)
Highly recommended courses:
Calculus (two semesters)
Physics (two semesters)
An additional semester of Organic Chemistry
Statistics
All Biology majors must complete a St. Mary's Project (SMP) over two semesters (usually a capstone experience during the senior year). This may be done in a department other than Biology.