Montgomery Hall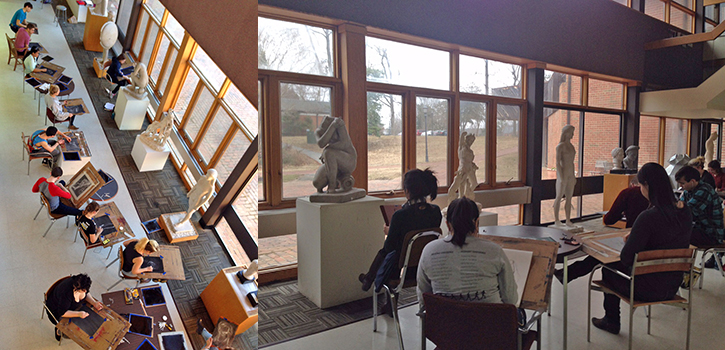 The Department of Art and Art History is located in Montgomery Hall, or, as it is affectionately known by students and faculty alike, "Monty." In addition to classrooms and studios for art, the building is home to a teaching collection that includes plaster casts of classical art sculptures on indefinite loan from the Metropolitan Museum of Art in New York City.
Fine Art Collection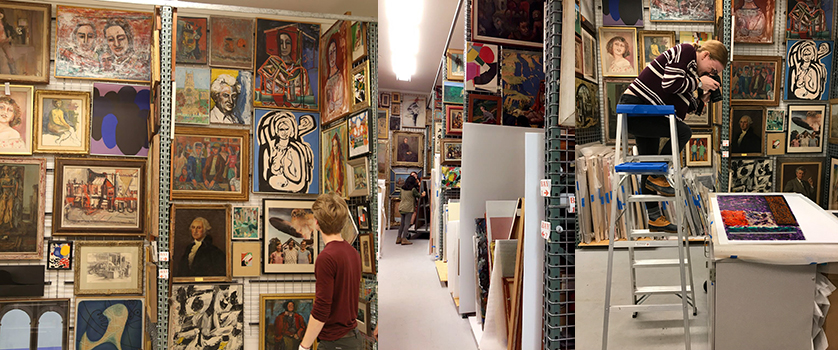 SMCM's collection was started in the 1970's, motivated by a desire to give students at St. Mary's College the direct experience of fine art. Today the College's fine arts collection has swelled to over 2,000 paintings, prints, sculptures, textiles and photographs. Art and museum studies students benefit by opportunities for hands-on study and curation of the art. The College community and our visitors are welcome to enjoy this rich array of art on display in the gallery and in the 47 buildings across campus.
The collection's highlights include art works by Alexander Calder, Louise Nevelson, William Merritt Chase, Buckminster Fuller, Marc Chagall, Thomas Hart Benton, Salvador Dali, Pablo Picasso, Alberto Giacometti, Ad Reinhardt, and more. The collection also includes works by current and former SMCM faculty, current St. Mary's College students, and alums.
Studio Classrooms
Drawing

In the heart of the Montgomery Hall studio art classrooms, the drawing classroom has skylights that provide excellent natural light and accommodates 18 students working at drawing benches with additional space for larger works on 6' x 4' movable walls. There is plenty of white wall critique space and still life object storage. Students can store their in-progress works in large racks in the room.
Printmaking and Book Arts

The new dedicated classroom has expanded space for student work in printmaking and book arts, and abundant natural light provided by large skylights and windows and opens to a large outdoor patio area with tables. The classroom has butcher block worktables, two etching presses, print drying rack, spray booth, board cutter, paper preparation area, four inking stations and flat files for storage of paper and in-progress work by students. The printmaking and book arts classroom is a non-toxic teaching and learning space. Print processes taught are relief, intaglio, collagraph, monotype and transfer techniques, plus a variety of bookbinding techniques.
Painting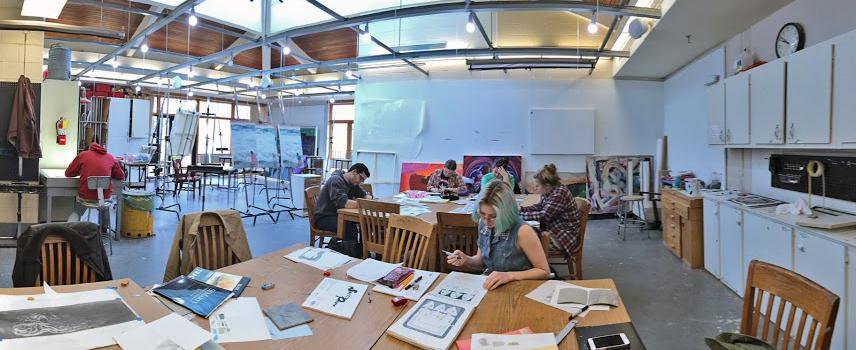 Natural light fills this painting studio from skylights and a door opens to an adjacent outdoor patio. The classroom is outfitted with 18 painting easels and individual rolling taborets, ample wall white critique spaces, and a large seminar table with digital projection. Students learn both oil and acrylic painting techniques that employ low-toxic approaches to the medium. Students can store their in-progress works in large racks in the room.
Photography

The photography studio features a spacious darkroom with 14 enlargers. It is also connected to a dry workspace classroom area equipped with LED lightboxes for students to prepare their analogue printing materials and negatives.

The photography collaborator's lounge is equipped with professional studio lights, medium format cameras and full sized backdrops. This flexible work space allow students to learn photography with professional studio equipment, understand lighting concepts and also to work actively without being restricted by weather conditions outdoors.
The Digital Classroom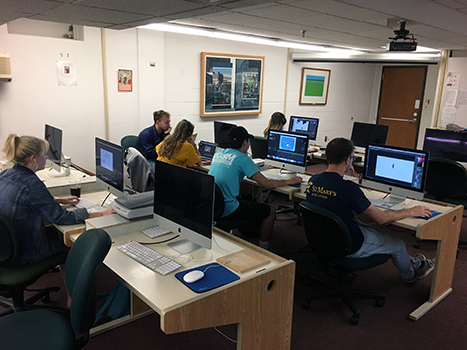 The Montgomery Hall digital lab is equipped with 20 iMac computers loaded with the full Adobe Creative Suite, as well as several flatbed scanners and two medium-format inkjet printers. The lab is used as a classroom for courses in photography, digital art, and animation, and two ceiling-mounted projectors facilitate screenings, presentations, and technical demonstrations. The adjacent Pro Lab includes 10 22″ Intel iMacs with Adobe Creative Suite software, After Effects, Maya, and Final Cut Pro.
Animation and Digital Fabrication


The animation space provides controllable lighting, stop-motion animation stations with dedicated software, and plenty of room to set up animation projects. Filament and resin 3D printers give students experience making objects with digital tools; other digital fabrication equipment includes a 37″ x 25″ laser cutter and professional vinyl cutter.
Senior Studios

Students completing an art capstone are provided with dedicated, shared studio spaces with tall ceilings, many working walls, tables and rolling carts, housed in the purpose-built Art Annex. A central communal space includes a large seminar table, ceiling-mounted digital projector and screen, paper cutter, supply cabinet with hand tools and supplies. Students have 24-hour card-key access to this secure facility.
Media Critique Room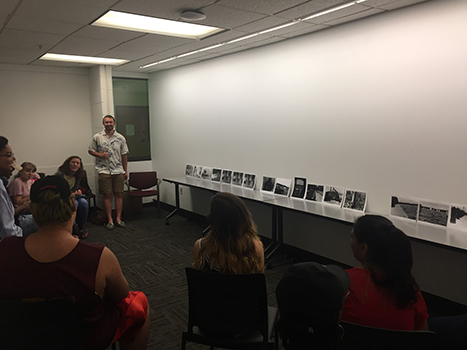 This dedicated critique and seminar space allows students to effectively present their works and engage in discussions and artwork viewing. Magnetic walls and specialized lighting facilitate the display of photographic and digital prints, and a 65″ 4K monitor enables the display of digital and time-based works.
Interdisciplinary Classroom Experiences

Students have the opportunity to study the intersections of many disciplines; for example, science and art combine in The Artist Naturalist course, in which students create new scientific illustrations in collaboration with science faculty research. Art students could learn scene painting in theater studies classes; mural painting in the Community Arts class; or, as in the ART 369: Art for Educators class, collaborate with environmental studies students to build a tiny house in partnership with Leonardtown High School's Forrest Career and Technology Center.
The Classroom Outdoors

Art classes often use the waterfront campus located on the St. Mary's River and students enjoy working from the local landscape including the adjacent grounds of Historic St. Mary's City.
Digital Resources
Digital Lab

In addition to its use as a classroom for Photo and Digital Arts, the lab is available for students to use outside of class time to work on their projects. Students have access to an assortment of equipment available for checkout, including video cameras, DSLR's, and camera support systems; lights; audio recording equipment, and Wacom tablets.
DIL Lab

The Digital Imaging Lab (DIL) is used for media editing and large-format printing. It houses a 44-inch Epson printer, as well as two flatbed scanners, a high-end multi-format scanner, and four iMac computers loaded with the full Adobe Creative Suite.
Media Center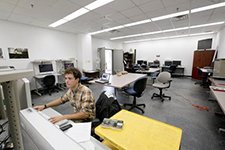 The Media Center, located on the 3rd floor of the library, is available for all SMCM with technical assistance available for student projects and assignments. The main teaching classroom seats 30, and has individual Mac stations, medium and large format flatbed scanners, HD projector and signal, sound system, turntable and cassette deck, DVD, VHS, whiteboard, staff whiteboard, and piano. Three adjacent rooms include a digital editing lab, recording & photography studio, and audio engineering suite. Also available for all SMCM students is the Media Equipment Room which holds a wide variety of media equipment used for events or available for checkout.
Exhibition Spaces
Boyden Gallery


The Dwight Frederick Boyden Gallery at St. Mary's College of Maryland significantly enhances the department's programming, hosting a range of exhibitions featuring contemporary and historical art, as well as the annual All-Student Show and the art students' St. Mary's Project exhibitions. Boyden Gallery also offers a variety of visiting artist talks, scholarly lectures, and workshops, as well as exhibitions and curatorial projects by art students, alumni and faculty. The gallery has a 40-foot x 40-foot 'white box' floor plan with wood floors and track lighting.
HallWalls

In the heart of the Art Department, HallWalls serves as a temporary exhibition space for student work from classes, departmental award shows, and student-organized pop up exhibitions.
Artist House Residencies for visiting artists, scholars and curators

Each academic year, the Department of Art and Art History invites visiting artists, scholars and curators for residencies at the Artist House, which is located in a bucolic spot at the campus edge. The program's mission is to provide support for fellows with both emerging and established careers by offering them the time and space to create new work, and to develop programming in which artists-in-residence share their work with the campus and local communities. An important part of the program is to support SMCM alumni who return as Artist House Resident Fellows to share their post-graduation experiences with current students. In fall semesters, in partnership with Maryland Institute College of Art, a recent MFA graduate is selected to be the SMCM-MICA Artist House Teaching Fellow with the award of a full-semester residency during which time the fellow also teaches one class for the department. While in residence, fellows give lectures, visit and teach classes, present workshops, show their work in process in open studios, and at the same time have the opportunity to work on a new creative or scholarly project.
Art History classroom
Centrally located in Montgomery Hall, the art history classroom is used for class discussions and lectures, and is equipped with a high-quality projector for instruction and student presentations.