In addition to careers in art, our alumni go into diverse creative professions. These include architecture, arts administration, arts education, entrepreneurial work, fashion design, graphic design, illustration, library and information science, media consulting, museum and gallery management, and robotics.
2020 – present
Gillian Borkowski '20

GILLIAN BORKOWSKI '20 is a 2020 graduate of the Studio Art program at St. Mary's College of Maryland. After a brief stint in banking, Gill eventually joined the team of Infinite Body Piercing's Baltimore location. The transformative property of modification applied to concepts of the body proves to be extremely compelling to them. This seems to be a natural evolution of the work Gill started in their SMP "Embodied in 2020.
Gill works as a Jewelry Specialist, and is privileged to work with amazing jewelry suppliers- designers with an equal commitment to beauty and the long term health of a modification. This, alongside their team of excellent Jewelry Specialists and highly skilled piercers (notably Kookie Lynn and James Webber), Gill finds themselves completely surrounded with exciting and inspiring work.
This work has influenced Gill personally to develop a small series of graphite drawings with the intention of translating this work to tattooing. While not showing in galleries, Gill finds pleasure in making work for friends and loved ones and in occasional art trade/bartering. Art making has always been a community practice for Gill, and they find themselves excited by the idea of working collaboratively with those who may receive a tattoo from them.
Tony Rayo '23

TONY RAYO '23 graduated from SMCM with a BA in Art with a minor in Theater Studies. He is currently earning his MFA in Art Photography at Syracuse University, with an expected graduation in 2026. While at SMCM, he received scholarships and awards, including the Senior Art Award, McCutcheon Award, and Art Community Award. His work focuses on presenting photographic images that venture away from typical flat pictures shown on a white wall, using sculptural elements as staging pieces and incorporating non-porous display surfaces such as glass and mirrors. His latest project combines recently shot works on film and vernacular photographs from anonymous family photo albums to construct interwoven narratives.
Taj Reed '23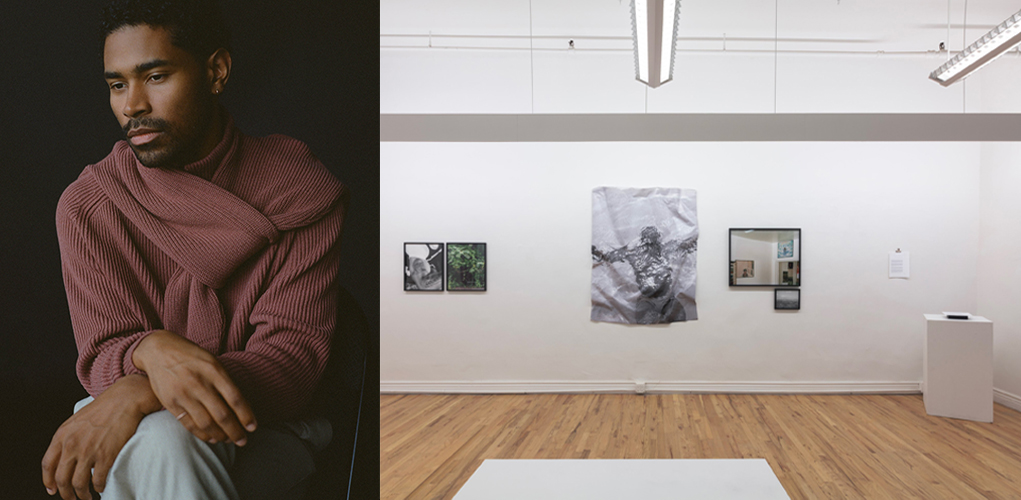 TAJ REED '23 (b. Trenton, New Jersey) is a New York-based artist and photographer. He holds a self-designed BA in Art, Literature, and Human Behavior summa cum laude from St. Mary's College of Maryland and is a candidate at Hartford's International Limited Residency Photo MFA program.
Taj has exhibited work at Hercules Art Studio Program in New York City, Agony Books in Richmond, Virginia, St. Mary's College of Maryland's Boyden Gallery, and digitally through the Maryland State Arts Council. In addition, his images have been featured by Booooooom, Pomegranate Press, Pearl Press, and other digital and print publications. Taj has dedicated himself, through his work, to exploring the communicative and self-actualizing potential of pictures and letters, using his practice as a tool to reckon with selfhood, cultural consciousness, memory, and American institutions.
2010 – 2019
Diana Abells '11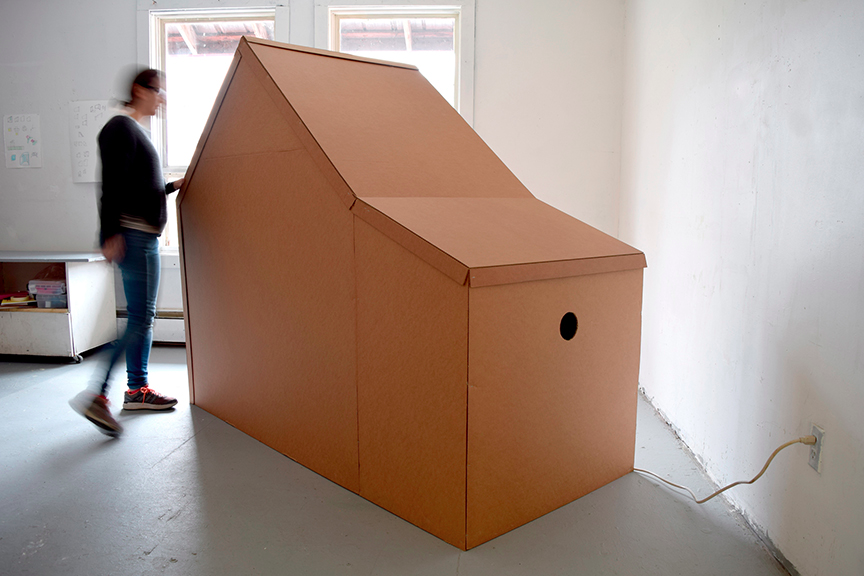 Diana Abells is an artist working across the mediums of video, installation and drawing. Born in Maynard, Massachusetts, she completed her BA with a double major in Art & Art History and Physics in 2011, and in 2015 she earned her MFA in art from The Ohio State University. Since 2015 she has been an adjunct professor for the Department of Art at The Ohio State, teaching classes on digital imaging, video art, and drawing. In 2017 Abells was a resident at the Vermont Studio Center. She has shown her work in the Columbus area including The Fort Hayes Shot Tower Gallery, EASE Gallery, Urban Arts Space, multiple collaborative installation projects at The Ohio State University's Hopkins Hall Gallery, and a solo installation at The Shed. She is a member of the Columbus based artist collective MINT, and is the recipient of a supply grant from the Greater Columbus Arts Council. In her recent work, Abells examines memory, misunderstanding, and desire in childhood. Through a variety of mediums including video, 3D modeling, installation, and drawing, Abells depicts remembered architecture and situations from her past as she brings together information from her own memories, found photographs, internet searches, and recorded footage in playful attempts at using the personal to address what are possibly universal notions of perception. Diana returned to SMCM in Spring 2018 as an Artist House artist-in-residence.
Michael Bargamian ART '13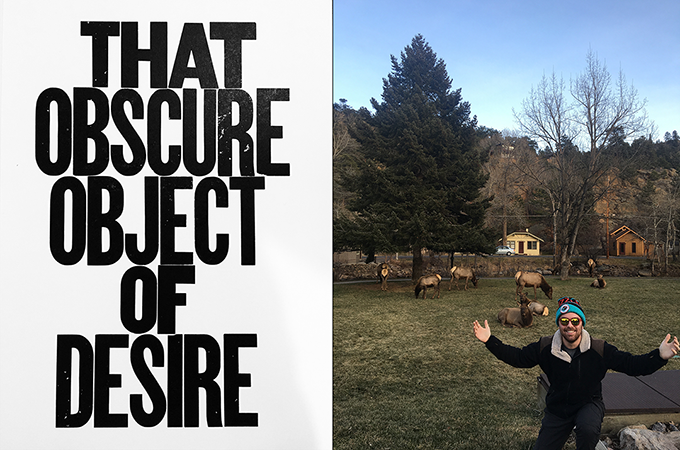 Michael graduated from St. Mary's in 2013 with a major in Art and in his senior year he was the recipient of the Department of Art and Art History's Senior Purchase Award. Since his time in school he has worked and interned at a variety of art's related organizations including the Hirshhorn Museum and Sculpture Garden in Washington DC. He has just begun the process of researching graduate school programs with the intention of returning to school in the foreseeable future. He currently lives in Baltimore and works in Columbia, Maryland.
Kelton Bumgarner '10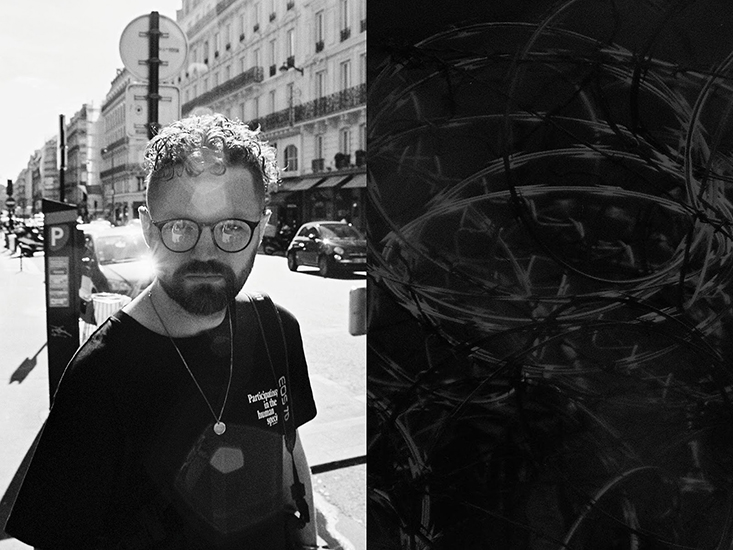 Kelton Bumgarner graduated from SMCM with a major in Art and Art History in 2010, and is an artist, designer and creative director in Philadelphia, PA. As an artist, he explores landscapes and decay through sculpture and unconventional photography. In his career as a professional designer, he provides art and creative direction for the Philadelphia-based boutique UBIQ. He has worked on numerous projects from concept to completion, including several sold-out collaborations with brands such as New Balance, Diadora, Saucony, Asics, and Clarks. His experience in menswear includes digital, print, and photo art direction; product surface design; web design, e-commerce, and social media; retail windows and environment, merchandising, and installations. Kelton's website: keltonbumgarner.com
Brian Boyle '10
Since graduating in 2010, Brian went on to earn his Master's in Communication with Honors from Johns Hopkins University in 2017. In 2012, he was recognized at the White House as a Champion of Change from President Obama, and as a Daily Point of Light award recipient from President Bush, and received the Johns Hopkins Martin Luther King Jr. Community Service award in 2013. IN 2017, Brian returned to SMCM to participate in the St. Mary's College of Maryland triathlon, and completed his first 100-mile ultramarathon in 2015 and a second 100-mile ultramarathon in 2017. Brian and his wife, Pamela Boyle, welcomed their daughter to the world, Clara Lynn Boyle, on July 27, 2017. Brian published his second book, "The Patient Experience: The Importance of Care, Communication, and Compassion in the Hospital Room" in 2015, and with his wife, published his first children's book, Swim Bark Run in June 2018.
Joshua Carter '15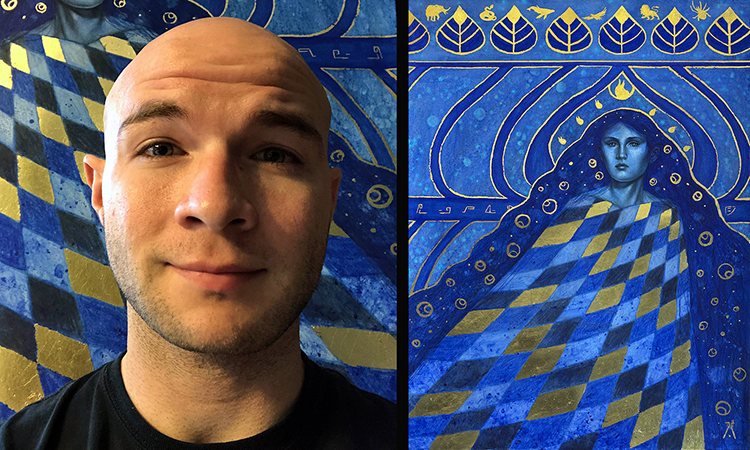 Josh graduated in 2015 from SMCM with a BA in Art and Art History. Before transferring to SMCM in 2013, Josh attended Maryland Institute College of Art from 2011-2012 focusing on illustration. During his senior year at SMCM he was the recipient of the William Thomas Rowe Scholarship in Art and the McCutcheon Art Award. These grants allowed Josh to attend The Schuler School of Fine Arts in Baltimore where he learned traditional art making techniques inspired by Old Master painters. Since then Josh Carter has exhibited at Yellow Door Art Studios, Prince George's Community College, and the Schuler School of Fine Arts "From Fur to Feathers" show in 2018. In addition, Josh has worked at Wine & Design as an art instructor and has gone back to school, attending SMCM to complete his Masters of Education by 2019. During his time off Josh works on a new body of work that focus on Visionary Arts and Art Nouveau, incorporating gold leaf into mixed media works. In July 2018 his recent work Anima Mundi was bought by an art collector from PA.
Laine Donovan '10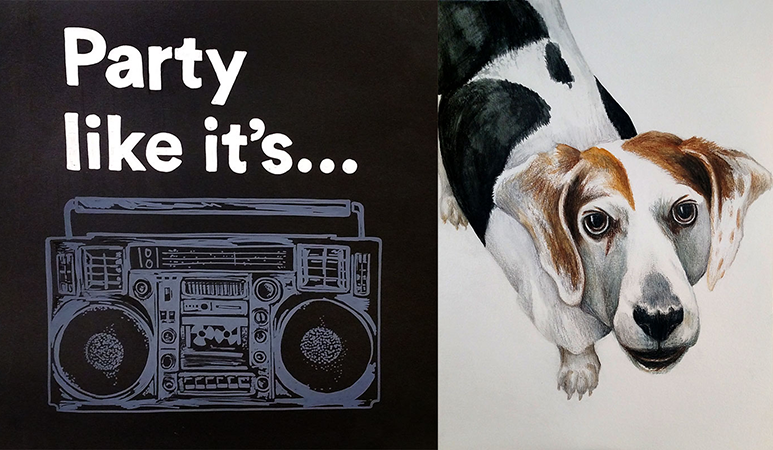 After graduating from St. Mary's with a B.A. in Art in 2010, Laine continued to make things, show and sell some stuff locally, and learn new mediums and techniques. In her own words, she "worked as a cook in several different restaurants, moved to New Orleans and back, had a kid, and used my culinary resume to sneak into the art industry. I got hired into Whole Foods as a cook, and then finally became a Store Graphic Artist. I got to do chalk art, hand-lettering, typography, graphic design, and play with a Roland Versacamm large format printer/cutter, all until summer 2018 when Whole Foods and Amazon decided to shift some of their business priorities… so I am now shifting some of my own business strategies (all while slinging steaks to the delightful Annapolitan clientele!). I am optimistic that I will get my footing back, and find my own visual voice. I am really going to miss that printer though." Laine's new coming-very-soon website: lainedonovan.com
Jade Feng Lee '11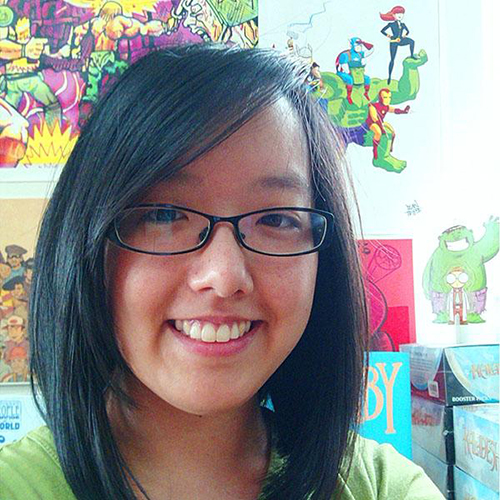 Jade Feng Lee is a cartoonist and illustrator based in Maryland. Her comics work uses fantasy and food motifs to explore narratives about identity, diaspora, and human connection. She is currently working on CORAL a middle grade graphic novel about a young girl's coming of age through her experiences surrounding the Dragon Boat Festival. Samples of her work can be found on her website www.dumplingheart.com.
Grace Humphries '17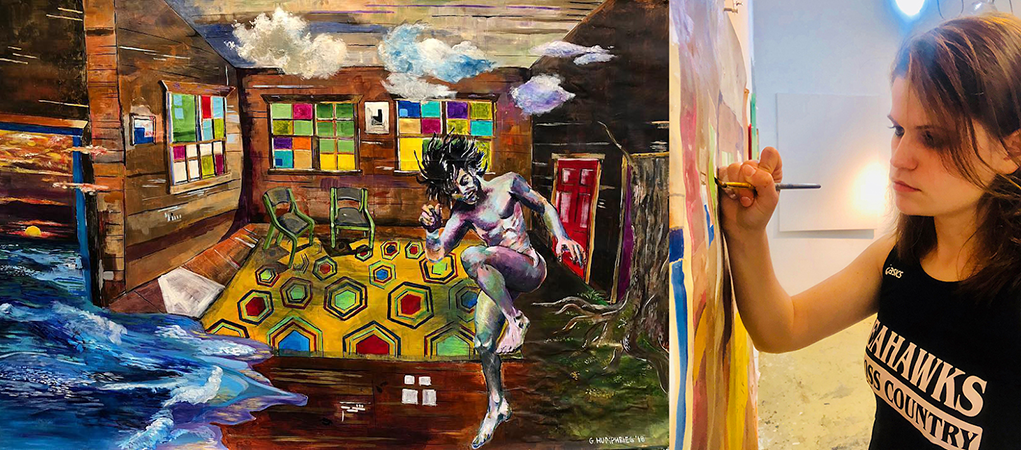 Grace graduated from SMCM with a B.A. in Art in 2017. She was awarded scholarships to attend summer programs at the New York Studio School in 2017 enrolling in two intensive workshops with Joe Santore and Elisa Jensen, and subsequently was awarded a residency fellowship by the Virginia Center for the Creative Arts where she worked on new paintings. Grace has also been awarded fellowship support to attend the Figurative Association Symposium at Arrowmont School of Art and Crafts in Gatlinburg, TN. Recently, her work was included in a group show, ANONYMOUS, in York, PA.
Cole Meyerhoff '16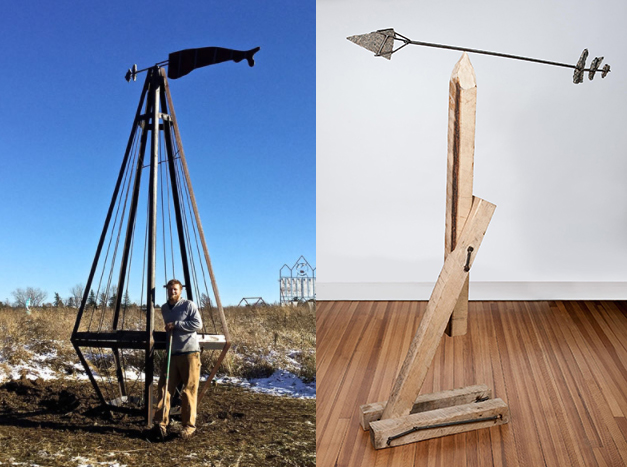 Cole Meyerhoff graduated in 2016 from SMCM with double major in Art and Environmental Studies. Before starting at the College, Cole spent his 'gap year' participating in a number of programs including Haystack Mountain School of Crafts on Deer Isle, ME; Penland School of Crafts in Spruce Pine, NC; and he worked as a shop hand for Albert Paley Studios in Rochester, NY. He also spent a summer as a wooden boat restorer's assistant and concluded his year with a two-month long internship at The Cape Eleuthera Institute on Eleuthera in the Bahamas. Cole was the recipient of the Senior Art Award in 2016. Since graduating, Meyerhoff completed a three-month long internship and installation at Franconia Sculpture Park in Shafer, MN. Meyerhoff has exhibited at Casket Arts in Minneapolis, MN and currently exhibits his work at Trippe-Hilderbrandt Gallery in Easton, MD. In February 2018 he was an Artist House artist-in-residence at SMCM.
Erin Moran '20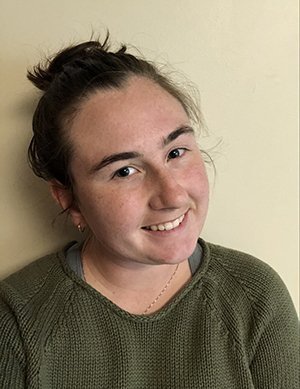 Erin Moran '20 is an ADDY Award winner in the American Advertising Federation-Baltimore's 2021 student competition for her illustrations in the fall 2020 issue of The Mulberry Tree magazine. Conducted annually by the AAF, the local tier is the first of a three-tier, national competition. At the second tier, local winners compete against winners from other local federations in one of 15 district competitions. District winners then compete at the national level of the American Advertising Awards. Moran's winning entry will be recognized at a virtual ceremony on March 4, at which time she will learn if her entry moves on to the district competition. Moran majored in art at St. Mary's College, was a member of the varsity women's soccer team, and a fellow with the College's Integrated Marketing & Communications team.
Shannon Rafferty '14


Shannon graduated with her Master of Landscape Architecture from the University of Pennsylvania in 2020. She now works as a designer at Sasaki, in Boston. Previously, she worked at Snøhetta, PennPraxis, and LANDAU Design + Technology.
Mitch Vicieux '17
Born in St. Louis, MO, Mitch Vicieux graduated from St. Mary's in 2017 with a major in Art and a minor in Film and Media Studies. During undergraduate time at SMCM she focused on portraiture and painting and then switched her studies to experimental animation and installation after taking her first animation class while studying abroad for a semester at the Accademia Italiana in Florence, Italy. In 2018, Mitch received full Graduate Teaching Assistant Fellowship to study at The Ohio State University Candidate for the MFA in Visual Arts – Art & Technology Concentration. She is working on community-based installation at OSU, and her current project is creating a centralized database for all LGBTQ+ services/safe spaces in Columbus, OH advertised through sculpture pieces. Mitch is the recipient of the Rhoda-Stark Memorial Award for Queer Activism (2018) & Joanne Klein Memorial Award for Activist Filmmaking (2018). Recent exhibitions include "Beers, Queers, & Art Exhibition" at the 914 Gallery in Columbus, OH, and The Food Show at the Shop 53 Gallery in La Plata, MD. Website: https://mitchvicieux.wixsite.com/studiovicieux
Allison Yancone '11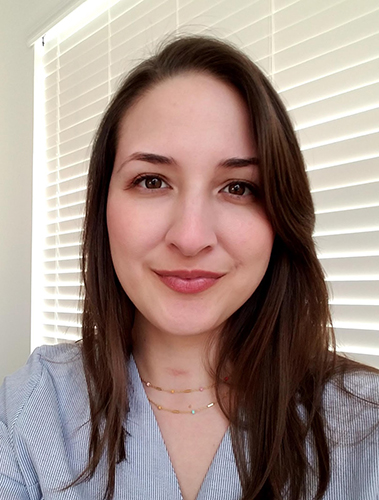 Allison Yancone graduated from St. Mary's in 2011 and later completed the Master of Arts in Teaching (MAT) graduate program at Maryland Institute College of Art (MICA). Currently, Allison teaches visual art to students at Bohemia Manor Middle School, a public school in Cecil County. Allison continues to create nature inspired artwork and is working to further expand her artistic practice by selling artwork and prints online.
Tara Youngborg '11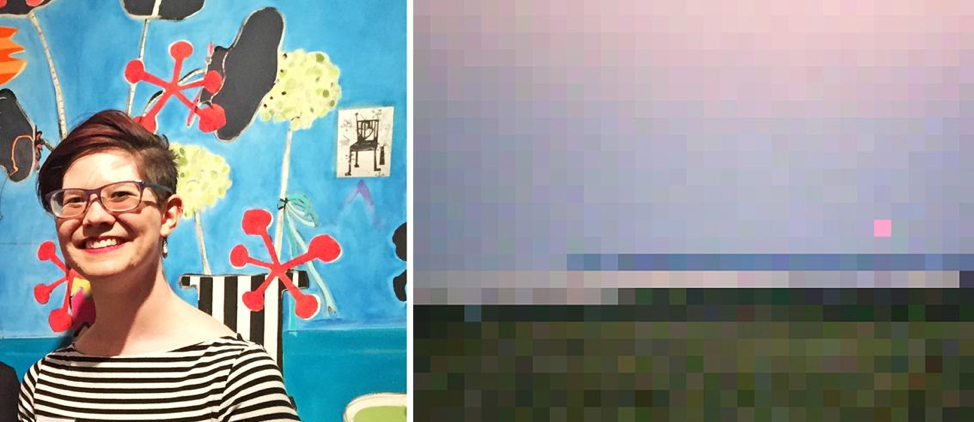 Tara graduated from SMCM with a B.A. in Art and Art History in 2011 and is a web-based artist who currently works and lives in Fairfax, Virginia. She currently holds the position as the Exhibition Coordinator for the Ridderhof Martin and duPont Galleries at the University of Mary Washington in Fredericksburg, VA. She has previously lived and worked in Brunswick, Maine where she was the Visual Arts Technician for Bowdoin College. She has also worked as a graphic and web designer, art teacher, gallery and collections assistant, and for two years after graduation from SMCM held the position of Art & Art History Department Assistant at St Mary's College. In her creative work Tara is interested in utilizing the Internet as a space where personal stories can become collaborative, and ways in which to use web-based technologies to create interactive artworks that are accessible to anyone with a browser and the Internet. She is also interested in exploring how identity is created, formed, and performed on the Internet. She has been published in Please Hold Magazine and Touch.My.Prints. Tara is a 2018 SMCM Artist House artist-in-residence.
Garrett Zopfi '13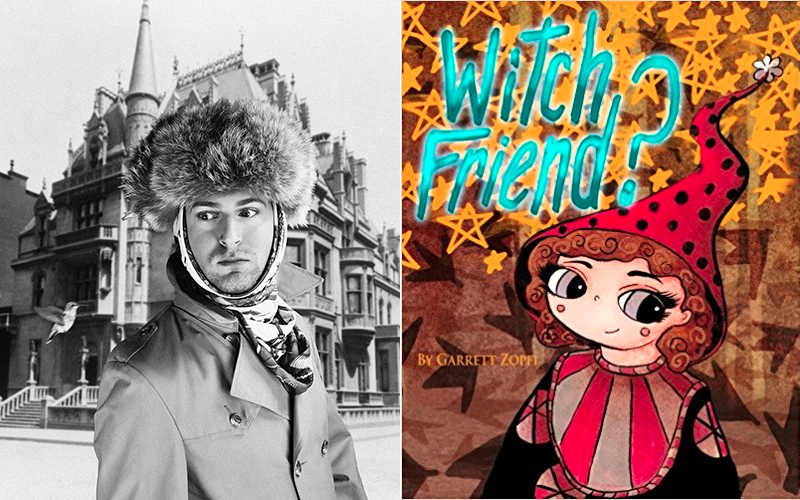 My education at St Mary's (SMCM) truly crafted a strong and diverse foundation for my occupations in creative professional fields. Since matriculating, the diverse framework of theory and application I learned through the liberal arts curriculum at SMCM provided me with the language to express my interest and intent and pursue subjects of curiosity; whether curating bespoke holiday tea China in a Vanderbilt mansion in Newport, R.I. or producing drawings with a Chamorro guide in the jungles of Guam. The human centered approach of the liberal arts and focus on writing taught at SMCM has been invaluable in my career with the U.S. Navy as a Public Affairs Specialist in the Far East theatre- learning how to research, empathize, and anticipate the reaction to information from a diverse and sensitive audience would not be possible without my time studying Art and Art History at SMCM. The example of the successful professional artists and art historians in the SMCM department of Art and Art History showed me that I can be successful pursuing what I love to do, like publishing my picture book "Witch Friend?"-available on Amazon. I treasure my time at St. Mary's and the encouragement and advice I received from the professors sticks with me and its effect on my professional life is unquantifiable.
Bio: Garrett Zopfi (1991-) was born on the eve of Halloween in Baltimore, Maryland. He has produced award winning Artist Books and Illustrations like Shadowman, The Baba Book, and The Lament of Rumpelstiltskin. He draws inspiration from mythologies, folklore, and tall tales and how they morph and blend together as the people who tell them do the same. Garrett Zopfi attended St. Mary's College of Maryland where he studied Art and Art History. He lives in Japan with his husband and two small dogs. His book Witch Friend? is available on Amazon.com.
2000 – 2009
Hannah Piper Burns '06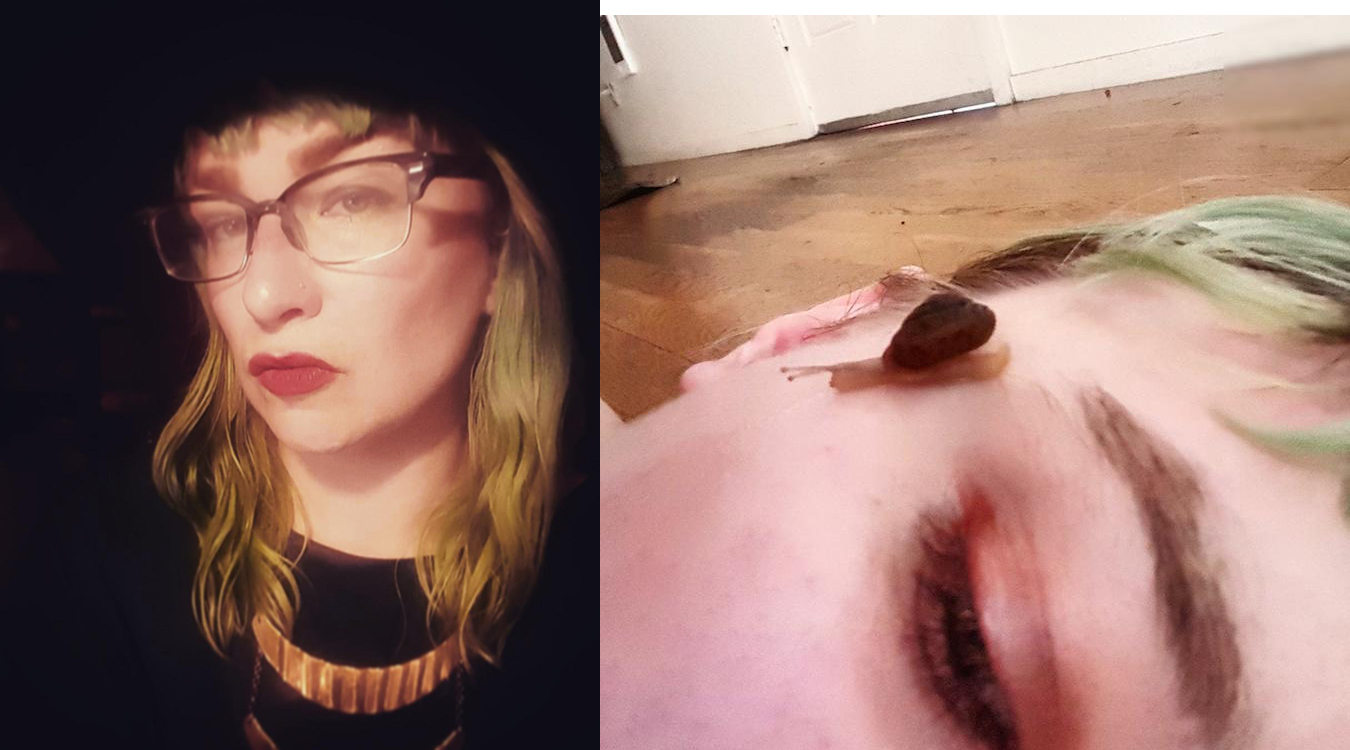 Since she graduated from SMCM, Hannah has attained an MFA in New Genres from the San Francisco Art Institute and moved to Portland, OR, where she currently works as a copywriter and multimedia artist. Her projects, which span video, object, performance, installation, text, and interactivity, have recently been shown widely across the United States and Canada, including recently at the Walker Art Center in Minneapolis, the Indie Bits festival in Columbia, South Carolina, the Winnipeg Underground Film Festival, and as part of Physical Education's "Say When". Her video "Outer Darkness" won "The Unreal Reality Award" at the 43rd Northwest Filmmakers' Festival, and she was an inaugural New Media Fellow at Portland-based media center Open Signal in the Spring of 2017. Her solo exhibition Venus Retrograde, which uses reality television (specifically "The Bachelor" and its spinoffs) as her source material, is currently on view through August 12, 2018 in the APEX gallery at the Portland Art Museum. From 2012-14 she co-founded and co-directed Experimental Film Festival Portland, and from 2015-2017 she co-founded and co-directed Compliance Division, an artist-run live-work project space. She is also a co-organizer of ALTcade, a semi-annual showcase of experimental interactive art and video games that has been active in Portland since early 2017.
https://www.hannahpiperburns.com/
https://portlandartmuseum.org/exhibitions/apex-hannah-piper-burns/
https://walkerart.org/magazine/contemportentary-the-archive-is-a-port-in-the-squall
Melissa Dean '01

Melissa Dean is a graphic designer, artist, and arts administrator, who graduated from SMCM in 2001 with a concentration in photography. Post-graduation, she was a registrar and designer for Maryland non-profit printmaking studio Pyramid Atlantic, and taught at Capitol Hill Arts Workshop and Woodrow Wilson High School. She went on to earn an MFA in Printmedia in 2006 from School of the Art Institute of Chicago (SAIC). Following her masters, she taught for the SAIC Early College Program, was an art director for a small commercial press, and spent a semester as a resident artist at the SMCM Artist House, teaching Printmaking and Topics in Art Studio.
Her artwork has been shown nationally and abroad, including two solo shows at Peter Miller Gallery in Chicago. In the last decade, she has worked chiefly as a graphic designer focused on non-profits and progressive causes, primarily as a designer for Revolution Messaging, where she completed work for clients such as ACLU, Amnesty International, the Bill & Melinda Gates Foundation, MoveOn.org, and Planned Parenthood, as well as many other clients as a freelance designer. Since 2012, she has been the Design & Media Manager for the Joan Mitchell Foundation, where she oversees the Foundation's websites and visual media projects, and works collaboratively on communications projects and strategy towards the Foundation's mission of supporting artists.
After stints in Chicago, Paris, and Brooklyn, Melissa is now based in Rochester, NY, where she lives with her husband Jacob Lewis (SMCM, Art History '02) and her son Felix.
Amanda Geary '03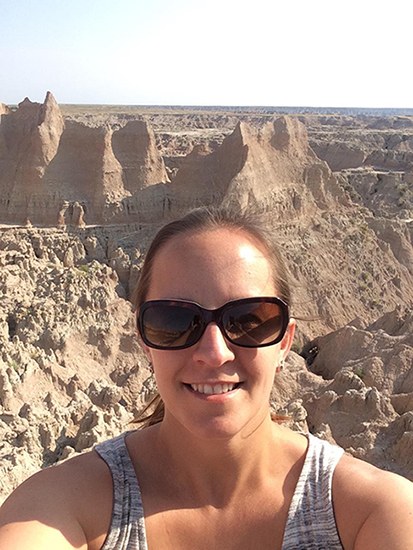 While earning her BA in Art and Art History at SMCM, Amanda was accepted into the 6-week immersion summer program, Design Discovery at Harvard University. Upon graduation in 2003, she earned a Master of Architecture from the Rhode Island School of Design (RISD) and then worked for a small architecture firm in Providence, RI. In 2010 she moved to Naples, Florida. In 2014 and she started her own design firm, Van Eliza Design and in 2017 she became a registered architect in the state of Florida.
Matti Havens '00
Matti Havens was born in the Netherlands and raised in the Finger Lakes region of New York. Furthermore, he has lived, studied and/or worked in Ecuador, Italy, South Korea, Switzerland and Poland. Matti graduated from St. Mary's College of Maryland in 2000. Immediately after earning his MFA in Sculpture from the Maryland Institute College of Art he had a six-month residency in Zurich, Switzerland in 2007. He also had a residency at The Artist House at St. Mary's College of Maryland in the spring of 2015. His work spans many mediums including sculpture, installation, video art, music, collage, screen printing, photography, painting, and performance art. Some galleries at which he has exhibited include Odetta Gallery, Walter Wickiser Gallery and Lesley Heller Workspace in NYC, Galeria Entropia, and Studio BWA in Wroclaw, Poland. His one-minute videos have been screened in The Netherlands, Belgium, Russia and Poland. He currently takes screen printing classes at the Art Students League and lives in Sunnyside, Queens, NYC. His work can be seen on his website: http://mattihavens.com/
Shannon Heaton-Pembleton '04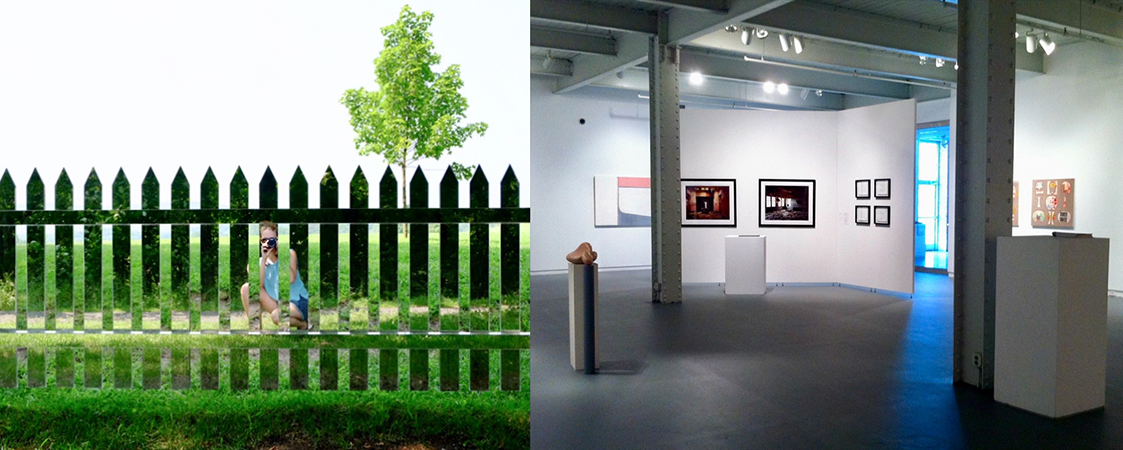 Shannon graduated from St. Mary's with a BA in Art & Art History in 2004. She began teaching right out of undergraduate school while also earning her ACT from College of Notre Dame. Shannon went on to earn a MFA from Maryland Institute College of Art in Photographic and Electronic Media in 2009 where she focused on Large Format Architectural Photography. Since that time, she has been the Art Department Chairperson at Poolesville High School where she teaches AP 2D Design (AP Photography) and AP Art History as a part of the Humanities Magnet program. She helped write the MCPS Digital Photography curriculum, and was a consultant to the AP College Board for the new AP Art History curriculum. She has been a presenter at numerous professional art education conferences, and was awarded the MCPS/MAEA Career High School Art Teacher award in 2015.
Danielle Hersey '03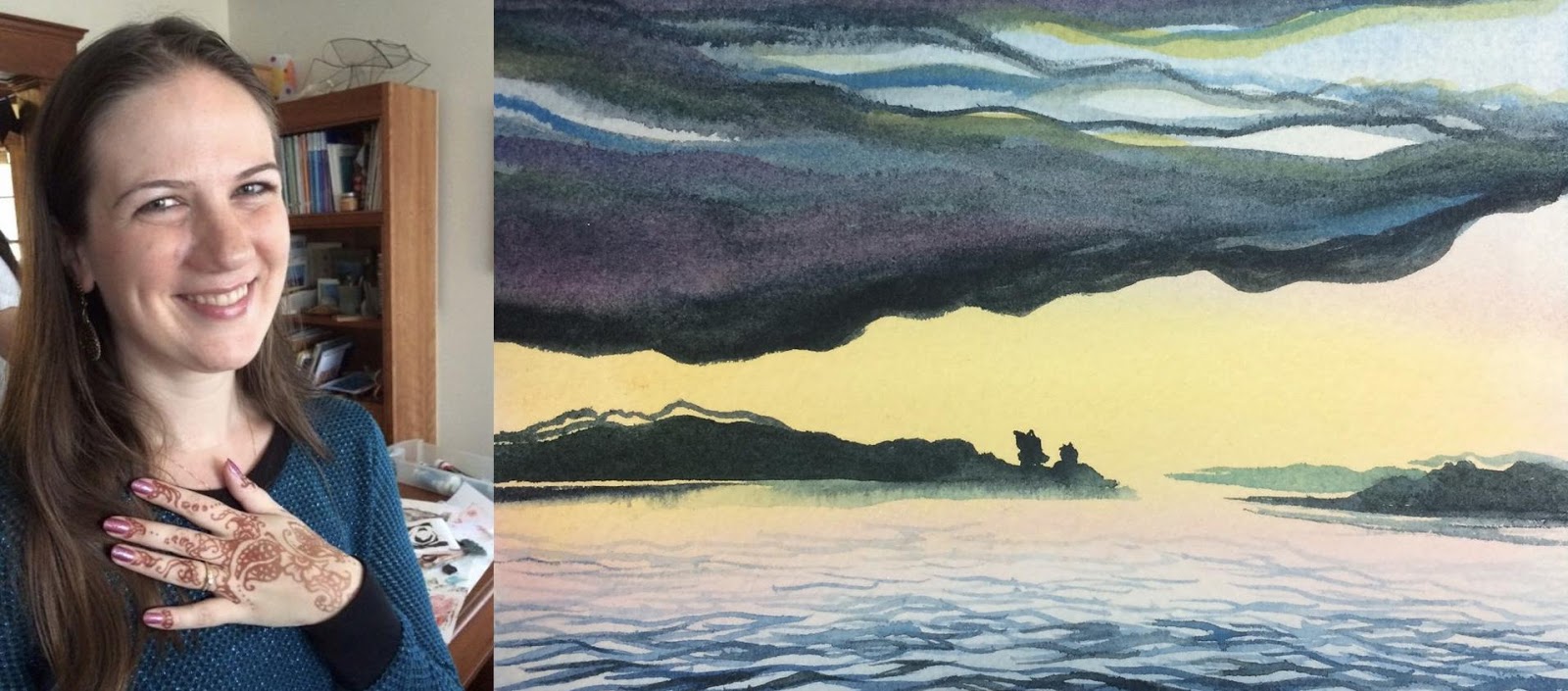 Danielle graduated from St. Mary's in 2003 with a major in Art and Art History. Her current position is as a Teacher of English to speakers of other languages and Maker Movement Coordinator in São José dos Campos, Brazil. Danielle's summer study abroad trip to Cortona, Italy during her studies at St. Mary's ignited a passion for both landscape painting and language learning. After earning a certificate in Children's Book Illustration from Rhode Island School of Design, her travels and adventures with language and creative communication led her to become an English language teacher. Currently teaching in Brazil, she combines her love for art and language by leading the way in bringing the maker movement into English language learning. When not teaching or writing, Danielle still paints landscapes, combining her enchanting experiences with the Saint Mary's River with the lush, mountainous landscapes of the state of São Paulo in water media collages. She blogs about the maker movement and her cross-cultural experiences at gringasjc.blogspot.com.
Matt Hollis '03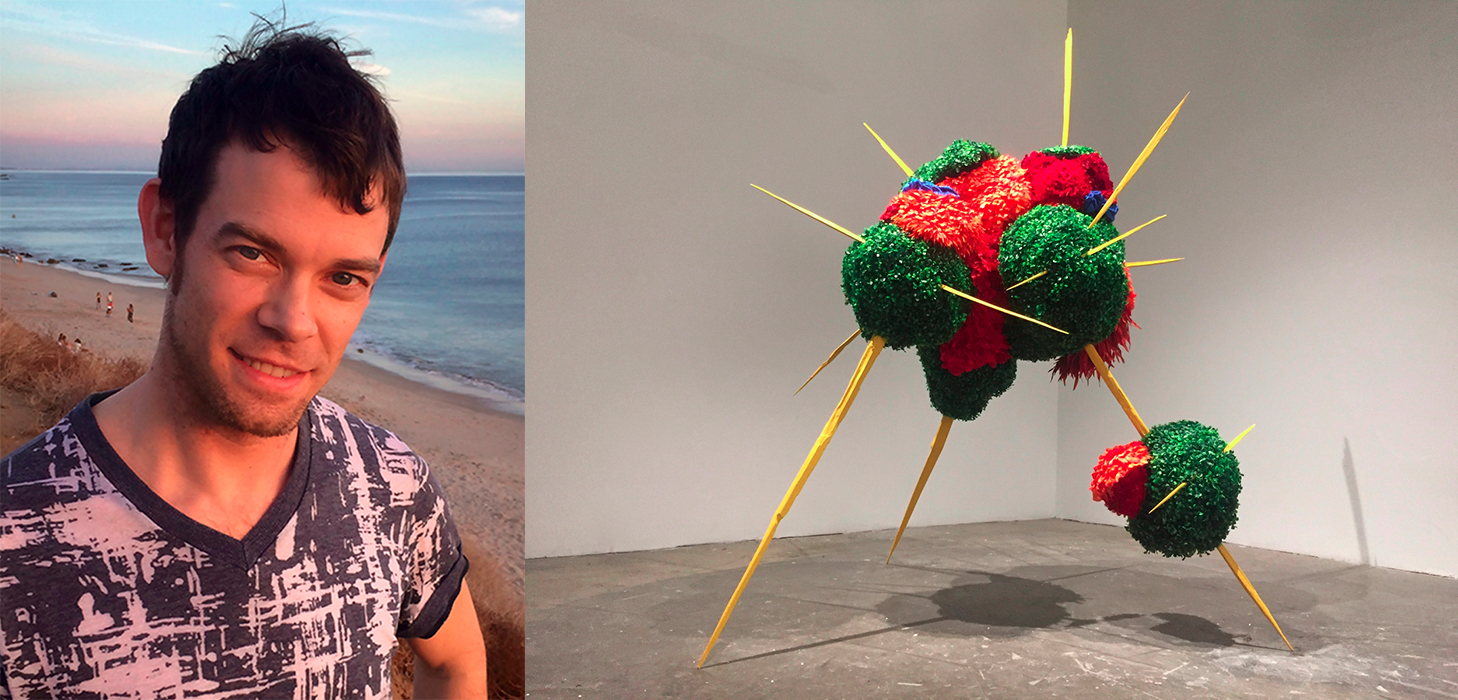 After graduating from St. Mary's in 2003 with a B.A. in Art and Art History, Matt Hollis moved into an artists' studio collective in Washington, D.C. He exhibited his organic-inspired sculptures, two-dimensional works, and full-scale installations throughout the D.C., Maryland, Virginia area before moving to the West Coast in 2017. He is currently pursuing a graduate degree in the MFA program at Otis College of Art & Design in Los Angeles, California.
Eric Jackson '04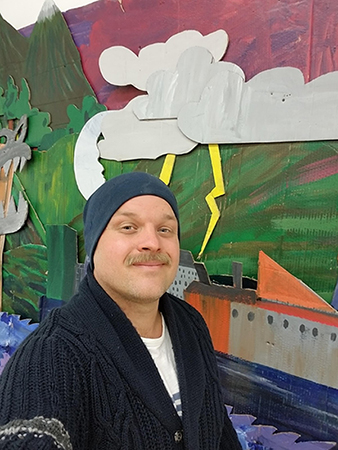 Eric's St. Mary's Project in ART was anchored around a series of landscape architecture projects that were installed in and around the campus (there might still be one in the bamboo forest!). During his senior year Eric was fortunate enough to combine his senior work with a credit internship at a local architecture firm, which turned into his first career after graduating in 2004. He worked doing custom home design and light commercial/institutional architecture for two Southern Maryland firms up until 2009 when he left the field and returned to St. Mary's College to pursue an MAT degree in Art Education. Eric has been a public school teacher since then, teaching Visual Arts K-8 at the Chesapeake Public Charter School in St. Mary's County since 2012.
Michelle Kohler '01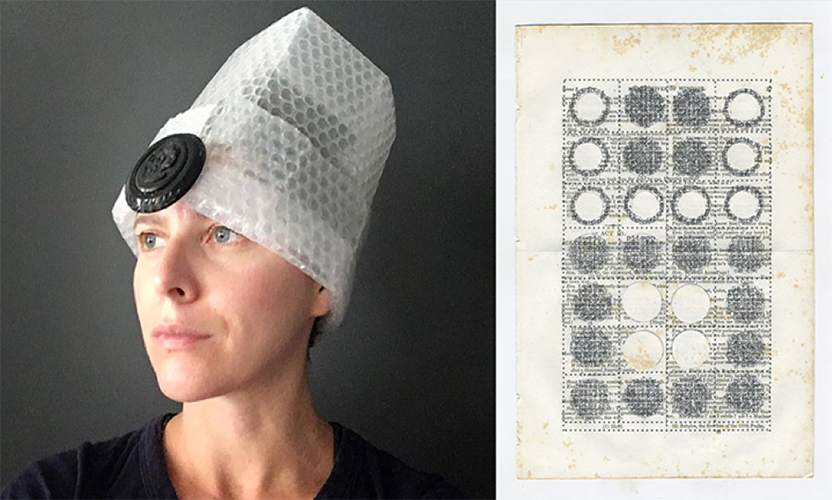 Michelle Kohler '01 is a conceptual artist working in Washington, DC. Using the constraints of domesticity, her work emerges at the intersection of art and everyday life. Through text, installation, and performance, Michelle examines the distance between the numinous and the mundane, self and other. Inspired by 17th Century tantric paintings, she uses a typewriter to transcribe spiritual texts into contemplation forms. The mechanical up and down, left and right motion of the typewriter frames her interest in non-dualism. Practicing the ideals set out in texts, she playfully seeks boredom and discomfort as opportunities for creative intervention. Through collaborations, Michelle interrupts accepted stories and habits, often trying to embody the experience of another person.
Michelle received a MAT in Art from the Corcoran College of Art and Design and graduated from St. Mary's College of Maryland in 2001 with a BA in Art and Art History (ART). For the past four years, Michelle has been a resident artist in motherhood. As an ARIM artist she has collected a year's worth of number 2 pencils from the playground, gone hunting with her father, and published The Bhagavad Gita Typestracts, the complete Bhagavad Gita written in visual form. She is a decorative painter, a certified yoga therapist, and a former DC Public School teacher. Michelle's work has been shown at Gradient Project Space in Thomas, WV. She is the beneficiary of the 2011 McCarthy Tall Tales Prize, a geodesic dome owner, and spent her honeymoon hiking 1000 miles on the Continental Divide Trail. In addition to creating new work, while in residence at the Artist House Michelle will participate in the ART SMP mid-term reviews and visit the new Professional Practices course as a visiting artist. Michelle returns to SMCM in Spring 2019 as an Artist House artist-in-residence.
Liz Lawrence '08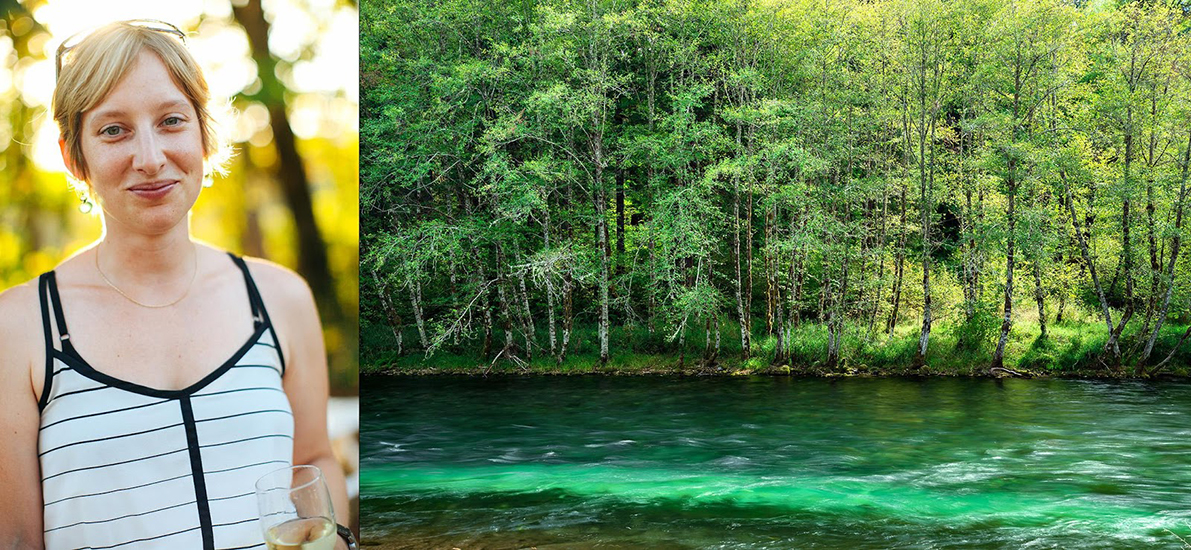 Liz Lawrence graduated from SMCM with a major in Art in 2008. She is the Development Director for the McKenzie River Trust, a nonprofit land trust in western Oregon where she has worked since 2010. In 2017, she led a group of volunteers and staff to raise over $4.6 million to permanently protect, restore, and care for Finn Rock Reach, a property that provides clean drinking water for over 200,000 people, access for fishing, swimming and boating, and critical habitat for wild salmon on the McKenzie River in Oregon. She serves as a member of the board of the Coalition of Oregon Land Trusts, a statewide group that works to grow resources and support for land trusts.
After graduation, Liz and her then-partner, now-husband Aaron Brussat (TFMS '07) spent three months on a road trip across the USA, visiting as many friends, family, and national parks as they could find, and keeping mostly off the big interstates. When they arrived in Eugene, Oregon in August of 2008, they had no jobs, no house, and nobody they knew. Liz worked in retail, building picture frames and stocking groceries for a year while moonlighting as an Americorps volunteer managing art galleries at two different recycling centers. Then she returned to school for a Masters Certificate in Nonprofit Management at the University of Oregon. This led to an internship and then a job with the McKenzie River Trust. Today, Liz scratches her art muscles visiting as many contemporary art spaces as possible while traveling, and serving as a member of the board of the Lane Arts Council, which advocates for the arts and provides resources to artists and K-12 arts educators across an area the size of Connecticut. She is a big fan of strategic planning, sound financial management, dancing, meditation, and swimming in rivers.
Ashley Meadows '07

Ashley is currently the Gallery Guide Manager at the Smithsonian's Hirshhorn Museum and Sculpture Garden. After graduating with a degree in Art in 2007, she taught English as a Second Language in South Korea, Vietnam, and Washington, DC. She completed an MAT in Museum Education at George Washington University in 2012. She joined the Hirshhorn in 2013 as an ARTLAB educator, mentoring teens in making and digital media. In 2016, she was the inaugural Fab Lab Fellow at the US Embassy in Seoul, South Korea where she developed and led art and technology workshops on harnessing the creative power of mobile devices. Since joining the Hirshhorn's Gallery Guide Program in 2016, Ashley has expanded the size and reach of the program, increased diversity in the program, and developed a training program that prioritizes inclusion and accessibility. She is also the Hirshhorn's "Chief Roboteer," experimenting and employing Pepper Robots in the galleries.
Emily Norris '09
Emily Norris coordinates arts education projects for Young Audiences/Arts for Learning. Projects include a collective impact initiative called Arts Empowered Minds that ensures equitable access to the arts in twelve Northern Anne Arundel public schools and a summer literacy program in partnership with The Harry and Jeannette Weinberg Foundations' Library Project in Baltimore City Public schools called SummerReads. Both projects utilize professional teaching artists and arts integration to engage students and support educators.
Alexis Nutini '00
Alexis graduated from SMCM in 2000 with a B.A. in Art & Art History and has been consistently making prints and print-informed projects ever since. In 2001, he received a Fulbright Fellowship to go to Barcelona, Spain where he completed a series of woodblocks as part of his project called "A visual ethnography of Spain." In 2003, he started his MFA study at Tyler School of Art and completed it in 2005 at Temple University's Rome campus. Alexis began teaching as an adjunct at Tyler in 2007, where he continues to teach. At this same time he began keeping a regular studio practice in south Philadelphia. In 2012 he bought an etching press and joined an artist collective called NAPOLEON, and has been showing and working with other artist collectives around the US. In his shop, now called Dos Tres Press, he runs private workshops, mentors those interested in print media, collaborates with other printmakers and occasionally works as a master printer. Alexis has shown his art work at The Center for Art in Wood, Pennsylvania Academy of Fine Art and the Pittsburgh Center for the Arts. Recently, Alexis was selected to be part of the 2017 Philadelphia CSA (community supported art), His variable woodcut edition was sold in shares to collectors who wanted to support local artists. Currently, he is working with the Latino community in Philadelphia to create a Dia de los Muertos ofrenda. The anchor of the project is a series of 50 woodblocks that will make up the shrine, and it will on view at Fleisher Art Memorial, one of the largest non-profit art organizations in Philadelphia.
Vanessa (Vizcarrondo) Piche '07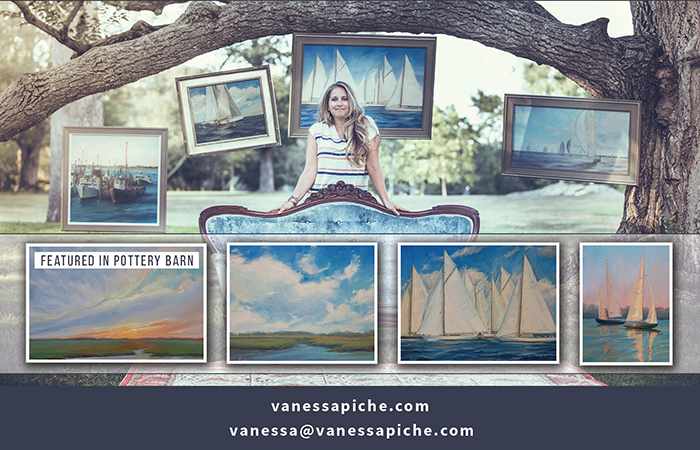 Vanessa graduated from SMCM in 2007 with a B.A. in Art, and earned a Masters in Teaching from SMCM in 2008. She is a passionate award-winning artist who captures her emotional response to the world around her. Her work has been shown in six one-person shows, and well over forty group exhibitions and awards include the 2017 Vernon Coleman Memorial Award in the All New England Open Juried Show at the Cape Cod Art Association and in 2016 Vanessa won Best in Show at the Charlestown Art Festival. Citing "nature as her temple" and painting as a "self-reflective practice," she sees each painting as a conscious creation that feeds her soul. Her work is featured in Pottery Barn, Hollywood movie studios, House Of Cards, and held in private collections around the world. In her newest entrepreneurial adventure Vanessa has recently started a clothing line based on her award-winning paintings. Her debut of the clothing line has been a huge success and is being sold at shows around New England and online. Vanessa resides in North Kingstown, RI with her husband and daughter. https://vanessapiche.com
Dave Simmons '04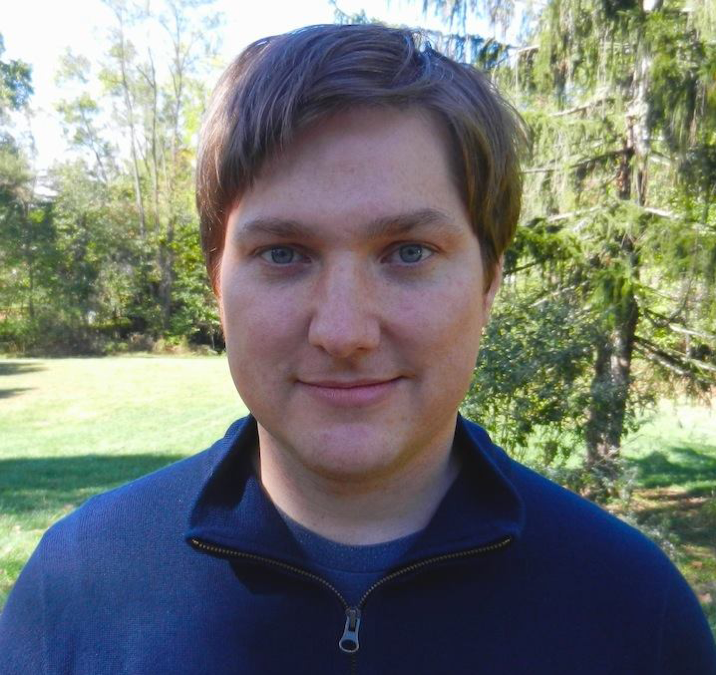 Dave graduated from SMCM in 2004 with a B.A. in Art and Art History and subsequently earned a M.A. in Arts Management from American University in Washington, D.C. Since 2013, he has been working as the Programming Manager for the Columbia Festival of the Arts—a multi-disciplinary sixteen-day summer arts festival in Columbia, Maryland. His work has involved programming, planning, and managing logistics for the Columbia Festival's free and ticketed events with a wide variety of groups, such as Pilobolus Dance Theatre, Australia's Strange Fruit, Judy Collins, Architects of Air, the Peking Acrobats, Monterey Jazz Festival on Tour, The Second City, Post-Secret, and Fémina. Dave also organized and led the Festival's visual arts committee, which annually juries over fifty-five studio artists to exhibit their original one-of-kind work at the organization's Free Lake Fest Weekend. Dave shares with us that he continuously researches future program content and especially enjoys building and nurturing partnerships within the community through the arts, and that he also enjoys working as part of a team and values his relationships with artists and arts managers immensely.
Taj Vaccarella '09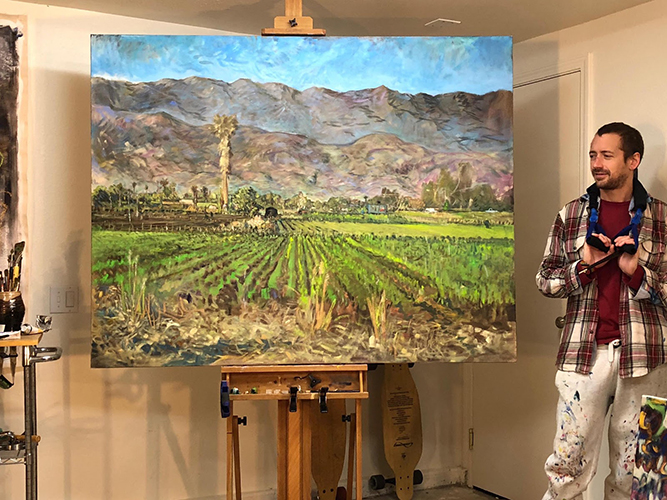 Artist Taj Vaccarella graduated from St. Mary's College in 2009. Shortly thereafter he bought a one-way ticket to Los Angeles determined to continue a livelihood as a fine art painter. He travelled up and down the west coast, bought an old postal van in Mount Shasta, and kept following leads in search of the right locale for creating and selling canvases. The big cities lacked the necessary landscapes to fuel his creative impulse and the beautiful countryside lacked a quality art scene and wealthy art collectors. Taj moved to a new state or landscape every few months throughout his twenties, following love or pursuing beauty almost frantically. He lived in his van for several month stints along the California and Oregon coasts periodically staying with the dear friends he made in college who had also gone West after graduation. He has shown with galleries and in group shows in prestigious venues as well as unglamorous ones, been commissioned and hosted by major art collectors in the US and Europe and each day he's not sure what's next. Many of the regular collectors and patrons of his artworks are themselves St. Mary's College alumni. He has felt well equipped for life as a professional fine art painter with the practical skills he acquired during his art education at SMCM.
Taj currently resides in a small coastal town near Santa Barbara, California and enjoys the kind of beach going lifestyle that keeps him fueled for all night, every night painting sessions. He realized, after the utopian bubble of college, that it takes absolute faith and dedication to pursue the artistic life. And one must do so relentlessly and often with little to no reward aside from artistic progression. Pursuing art and philosophy in school helped him gain the courage and thinking skills to pursue a life of personal freedom and constant creativity.
Bonnie Veblen '09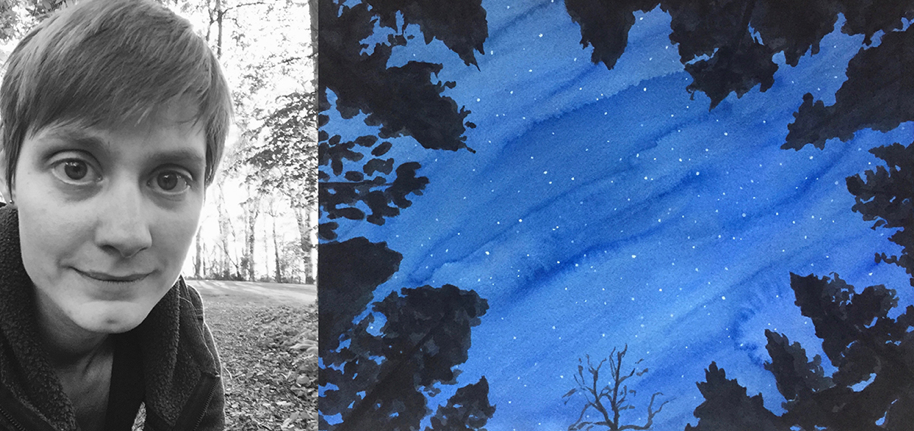 Bonnie Veblen is an artist currently living in Davis, CA who graduated from St. Mary's College of Maryland with a B.A. in Art and Art History in 2009 with minors in Environmental Studies and Biology. She completed a Post-Bac at Pont-Aven School of Contemporary Art in Pont-Aven, France in the fall of 2009. In 2014, Bonnie graduated from the Center for Massage and Natural Health and is certified to practice massage therapy in California. She has worked as an illustrator, graphic and web designer, medical assistant, and massage therapist. Bonnie exhibited some of her photography in a duo exhibition at Yoga on York in Baltimore in 2013. Her illustrations have been published in The Complete Photo Guide to Perfect Fitting (Creative Publishing) and Windpower Engineering & Development (April 2018). Her work is also available to view on the web. Bonnie's current artwork and writing explores the intersections of wildness, interconnection, transformative cycles, nervous system regulation, and wholeness. She often pairs images with words in the form of poetry or prose, so that they become a living unit, mutually informing and adding dimension to each other. Bonnie works in watercolor and acrylic as well as photography to distill the essence of natural spaces and beings she encounters in her daily life and her travels. She is especially interested in the experience of genius loci, the spirit or essence of a place, which is particular to that place alone given all of the qualities that meet there, and how that experience can have deep impact on a person's interior process and wellbeing. Bonnie returns to SMCM in Fall 2018 as an Artist House artist-in-residence.
1990 – 1999
Mike Johnson '96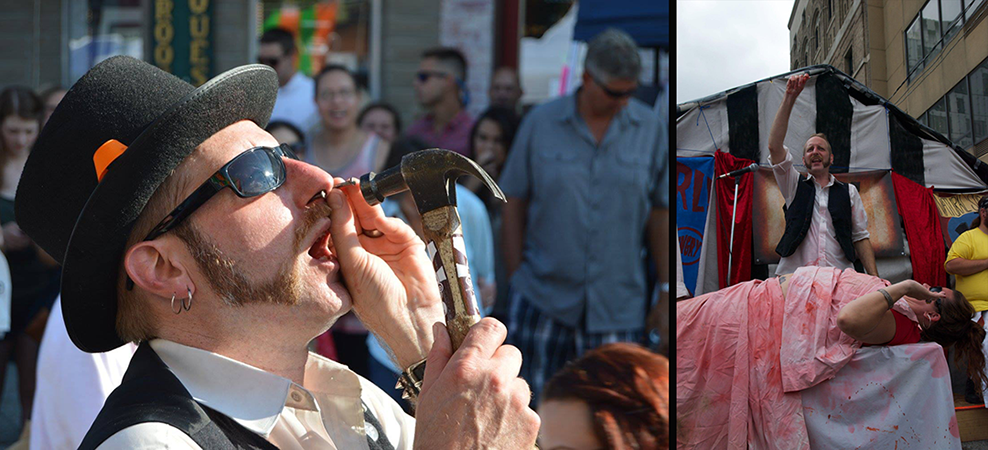 Mike Johnson graduated with a B.A. in Art & Art History in 1996 and is an audio-visual field engineer and mixed/multi-media artist living in Baltimore, MD. Since 2003, one of his major ongoing projects has been creating sideshow and haunted-house related performance/installation/interactive works alongside a group of collaborators as Moloch's Midway & Cabinet of Infernal Mysteries. Moloch's Midway environments feature artistic carnival-style electronic games, live performance, interactive electronics, lighting effects, and sideshow banners, and have been presented at various arts festivals, nightclubs, and private venues in the Baltimore-DC area. Mike also produces mixed media objects and homemade electronic instruments. Mike holds an M.F.A. from the Maryland Institute College of Art in Photography and Digital Imaging, and a wide range of audio-visual industry certifications. Mike taught video at MICA, photography, video, and electronic media at George Washington University, photography and video at Wide Angle Youth Media, and has worked in the audio-visual industry since 2003.
Nancy McFalls '95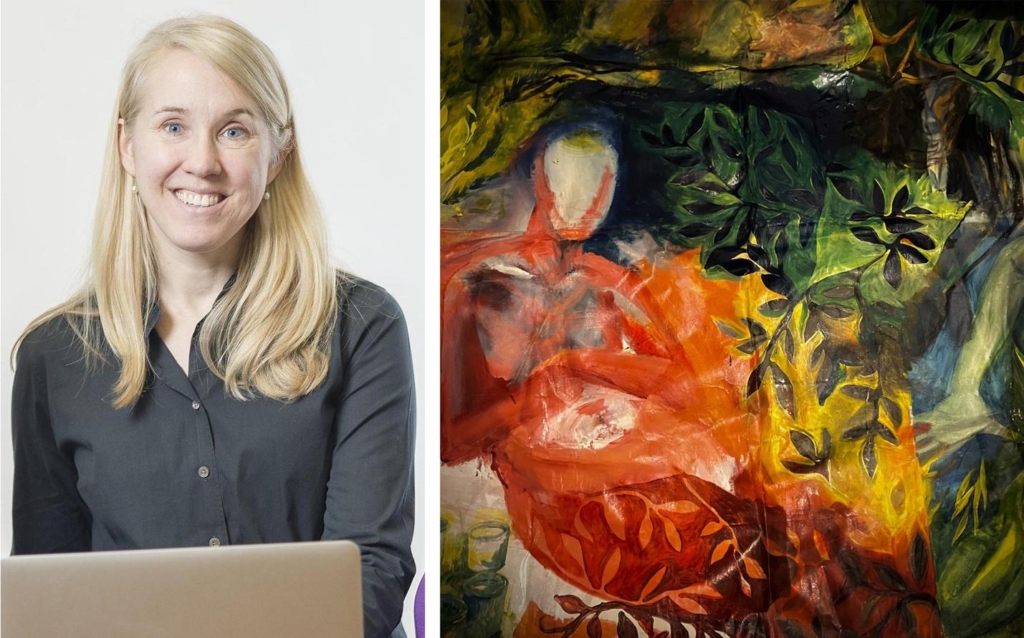 NANCY McFALLS '95 graduated from St. Mary's College of Maryland in 1995 with a major in Human Development while also studying Art. She earned an MBA from the University of Kansas as part of the CIMBA International Business program. Nancy has 25 years of experience leveraging software to solve challenges in multiple industries with an entrepreneurial approach to business analysis, design, consulting, training, and leadership. She also has an art business that focuses on mural painting. She is currently a Senior Product Manager – Tech for Amazon Web Services in Arlington, VA. Previous positions include work as a Product Manager for NTT, Ltd., a User Experience Designer with Design for Context, and a Software Designer for Personify Corp, and Business Analyst for CAS, a FICO subsidiary. For more info see: https://www.nancysmurals.com
S. Amy Odem '98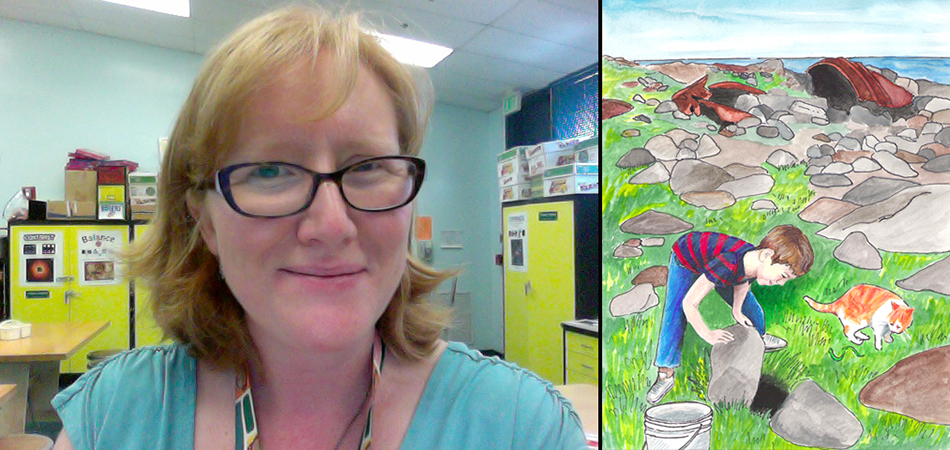 S. Amy (Sehman) Odom '98 is a K-5 art teacher in Howard County Maryland. After graduating from SMCM, Amy got a BS in Art Education at Towson University. For 10 years she lived and worked as a K-5 art teacher in South Portland, Maine. In 2008 Amy got her MAT in Curriculum and Instruction: Integrating the Arts from Lesley University. She now lives with her husband (Doug Odom '99) and daughter in Columbia, MD.
Jae (Williams) Rossman '95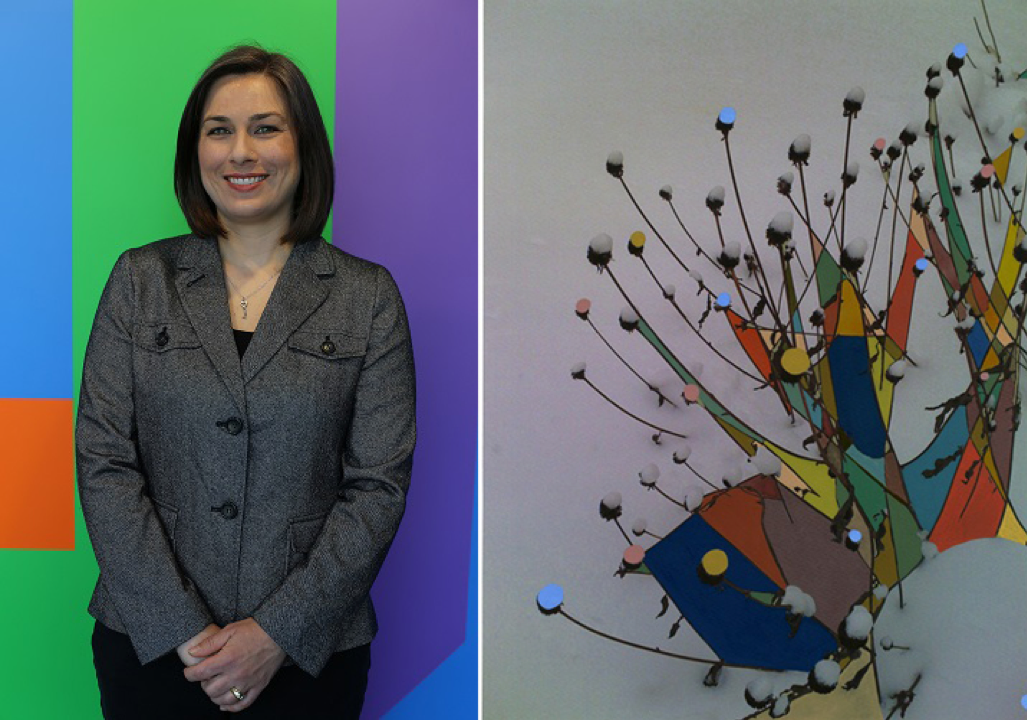 Jae Jennifer (Williams) Rossman '95 is the Director, Department of Area Studies and Humanities Research Support (DASHRS) at the Yale University Library. She leads a team of subject specialists in collection development, instruction, and outreach for a variety of disciplines. DASHRS supports teaching, learning, and research for over 500 faculty and 1600 graduate and undergraduate students. Previously, for over 15 years, she was the head of Special Collections at the Yale Arts Library, where she acquired artists' books and artists' archives, taught with primary sources, lead the exhibition and outreach programs, and revitalized the programming around the library's historic 1839 Albion iron hand press. In addition to her BA degree from SMCM, Jae holds a post-baccalaureate certificate in painting and printmaking from Brandeis University, an MS in Library and Information Science from Simmons College, and an MA in Modern History from Drew University. She is currently a doctoral student in Library and Information Science at Simmons College. In the studio, Jae explores the natural world through the lenses of pattern and color. This image is from her series "Invisible Geometry."
Mary Jane Rowe '94

Mary Jane Rowe was born in Baltimore, MD and earned a B.A. in Art and Art History from St. Mary's College of Maryland with additional study at the Schuler School, Baltimore, MD. Rowe began her studies at SMCM in 1968-71 and returned in 1994 to complete her degree. Her ongoing series of paintings and drawings, Field Studies, are based on and inspired by her travels to the sites of ancient ruins in Rome and Athens. These works are set in a contemporary yet remote industrial landscape that shows evidence of curious human activities that leave these sites abandoned, surreal and out of time. Rowe has had one-person exhibitions at the Tony Hungerford Gallery, College of Southern Maryland and the North End Gallery, and her work has been included in curated group exhibitions at Opal Gallery, Fredericks Center for the Creative Arts, Boyden Gallery, Fletchers and Annmarie Garden Sculpture Park. She has been awarded residency fellowships at Virginia Center for the Creative Arts in 2009 and 2016.
Shell Spangle '95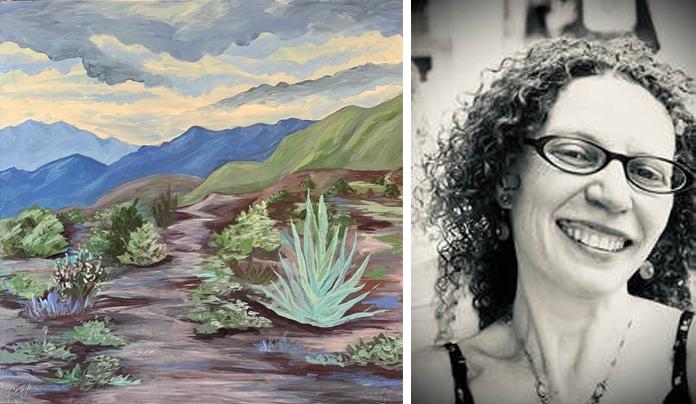 SHEL SPANGLE '95 is a teacher and artist based in Baltimore, Maryland. She has been an educator in public schools in Oregon, Washington, and Maryland for over twenty years and currently teaches visual art at Sherwood High School in Sandy Springs, MD. Over time, Spangle has had the opportunity to mentor multiple teachers new to the profession, to travel to England, France, Spain, Greece, and Italy with art students and to study Spanish in Mexico with other teachers. She says, "I love bringing the light, the colors and the textures from my travels near and far to my work and guiding new generations of students to continue to explore their own ways of seeing the world around them. They are a constant inspiration." Spangle holds a BA in studio art from St. Mary's College of Maryland, an MEd from Portland State University and a Certificate in teaching English language learners from Loyola University of Maryland. https://shelspangle.weebly.com/about.html
Winifred King Thompson '98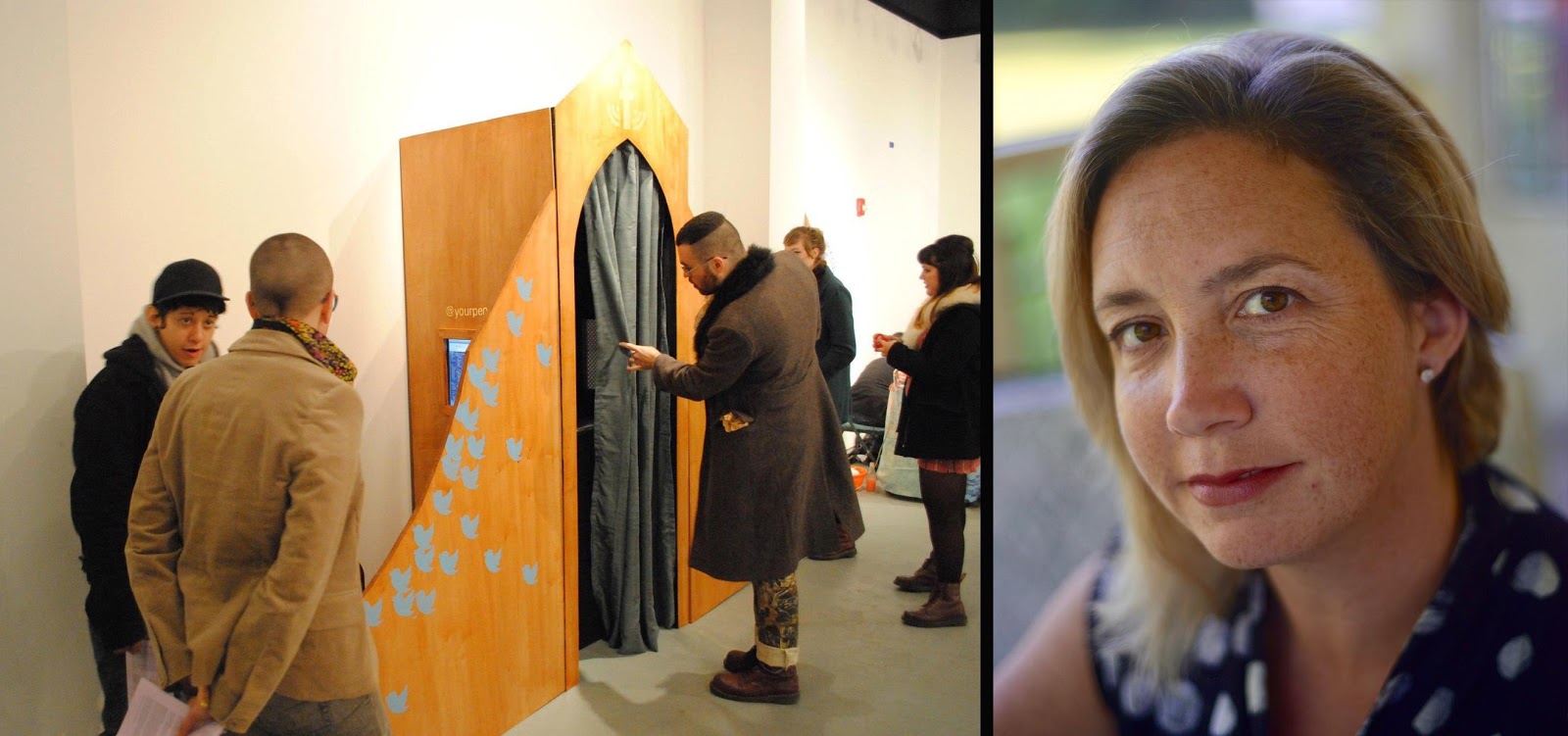 Winifred King Thompson graduated from SMCM with a major in Art & Art History in 1998. She is currently an art teacher at St. Mary's Ryken High School in Leonardtown, MD, teaching AP Art History, Introduction to Visual Art, and Darkroom Photography. At SMCM, she was the recipient of the Senior Purchase Award, Department of Art and Art History in 1998 for her painting, Trepidation. Upon graduation, she started teaching at Bullis School in Potomac, MD. Winifred worked there for 16 years, teaching all grade levels. She taught several disciplines and proposed, designed and developed curriculum for new class offerings. She helped grow and expand the Visual Art Department and was involved in the design of the Fine Arts Center. Winifred designed and led student art-based learning excursions to Paris and Tuscany, as well. A desire to be closer to family brought her back to St. Mary's County in 2012. She resides in Hollywood with her husband and four boys. Winifred continues to develop her personal work, exploring intersections of systems of belief within technology and religion. Her work, Confessional, was included in Across the Ages: An Alumni Exhibition at Boyden Gallery in 2014 and was awarded the Juror's Choice Award.
George (GW) Thompson '96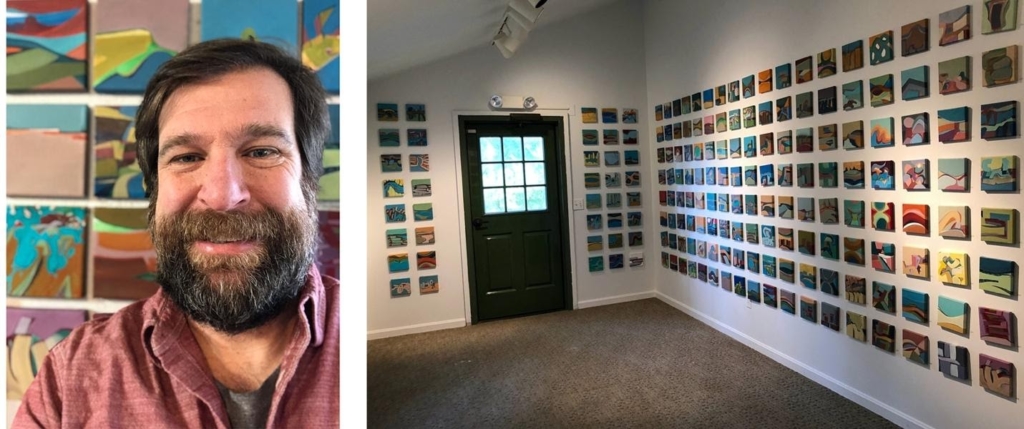 George (GW) Thompson graduated in 1996 with a BA in Art & Art History and has recently returned to life as a full-time artist after earning an MBA from Colorado Technical University and working in Information Technology. He lives and works from his home studio in Lewes, Delaware, and creates art every day utilizing a variety of media, although he is primarily a painter and works mostly with acrylics. Recent projects have revolved around environmental issues and the relationship that humanity has with the environment. Surrounded by nature, GW, his wife, and daughter enjoy a home situated at the foot of Delaware's Great Marsh. A close connection to such a fragile environment is a constant and evident influence in much of his work. His work can be seen in several venues throughout Delaware as well as online at www.artbygw.com.
Kim Thorpe '94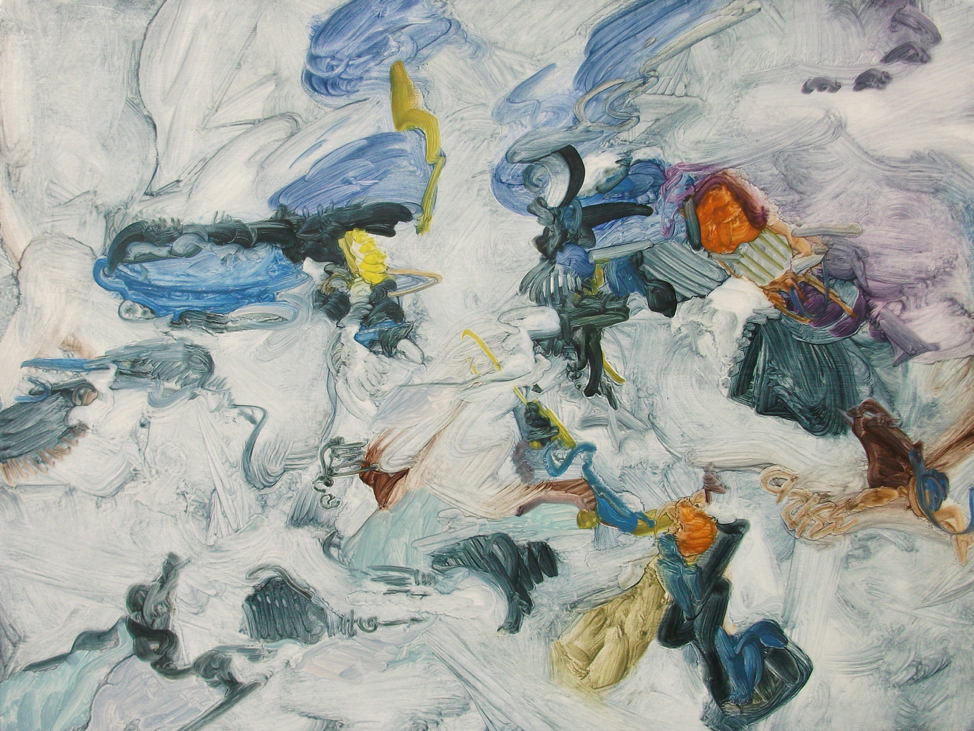 Kim Thorpe received her BA in Studio Art from St. Mary's College of Maryland in 1994 and her MFA in painting and printmaking from the Rhode Island School of Design in 1996. Inspired by landscape imagery and abstraction her paintings explore color, shape and line. She exhibits her work locally and nationally. Kim currently has a studio at Pyramid Atlantic Art Center in Hyattsville, MD.
Christoph Weber '95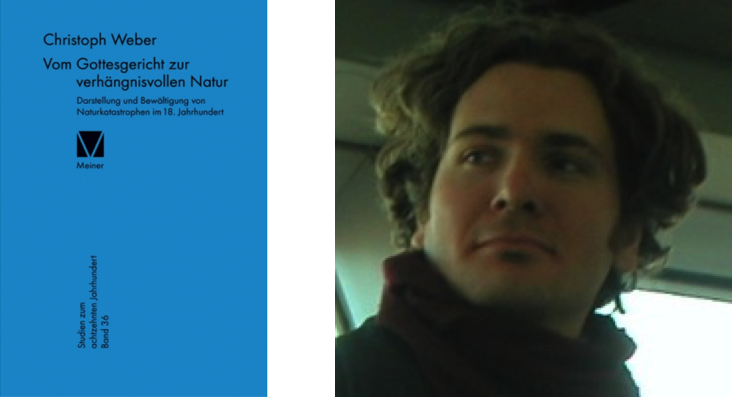 Christoph Weber '95 is an Associate Professor of German at the University of North Texas (UNT). He completed his doctoral degree in modern German literature at the University of Wisconsin-Madison in 2009. At UNT, he has been teaching a wide variety of undergraduate courses such as Weimar Germany, the Third Reich, German travel literature, and the literary depiction of natural and manmade disasters. Over the past years, his research has centered on disaster narratives from the early-modern period to the present. In 2015, he published the monograph Vom Gottesgericht zur verhängnisvollen Natur. Darstellung und Bewältigung von Naturkatastrophen im 18. Jahrhundert [From Divine Punishment to Accidents of Nature: The Depiction of Natural Disasters in the 18th Century]. Recent articles have focused on the textual representation of the Dresden, Hamburg, and Cologne bombings during World War II. During the sabbatical leave in spring 2017, he and his wife Jennifer Jenkins, who is an Associate Professor of German at Pacific Lutheran University, conducted research at the German Literature Archive in Marbach, Germany. Since fall 2017, he has held the administrative position of Director of Undergraduate Studies for UNT's Department of World Languages, Literatures, and Cultures.
1970 – 1989
Jeanne Norton Hammett '77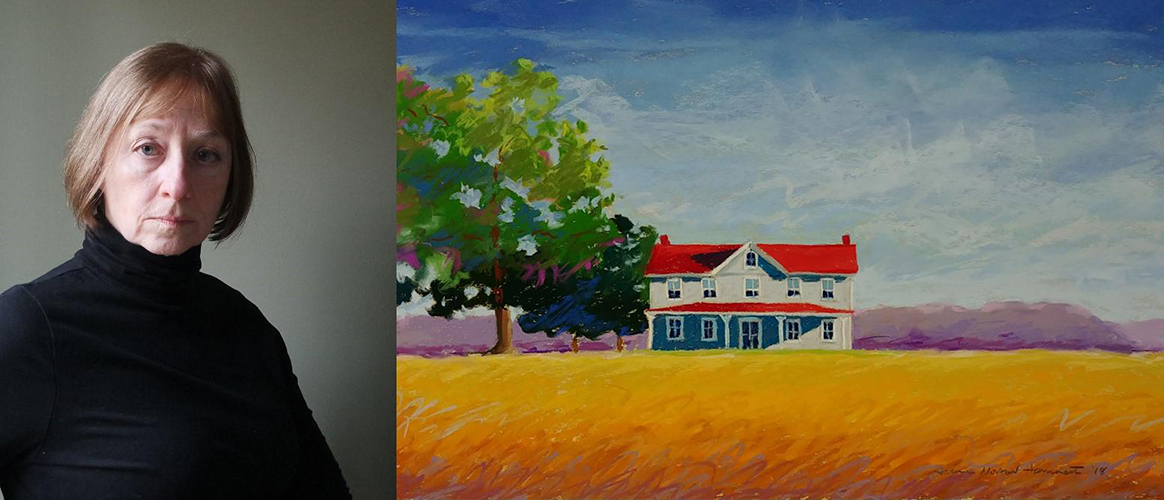 After graduating in 1977, Jeanne worked for ten years as an exhibits designer, graphic artist, sign maker, and draftsman for various military contractors at Patuxent River Naval Air Station, and companies in Lexington Park, MD. In early 1989 Jeanne started her own business as a freelance graphic artist and silk-screen artist. She now focuses solely on being a full-time artist, in the medium of serigraphy or silkscreen printing. She also works in pastel. Jeanne is a charter member of the North End Gallery in Leonardtown, an artist co-op, which was founded in 1986. Her work can be found there, as well as in various galleries throughout the State of Maryland and in selected arts and craft shows on the East Coast. Her work can be found in private and corporate collections around the world.